As Phoenix residents, sometimes we rarely enjoy traditional city parks, walking paths, athletic fields, and the many open green spaces our city has to offer. Year-round sunshine makes most months perfect for picnics and playing in the park. Pack your basket (or find a nearby sandwich spot) and bring the family to one of these local parks for some fun in the sun!
1. Encanto Park, Phoenix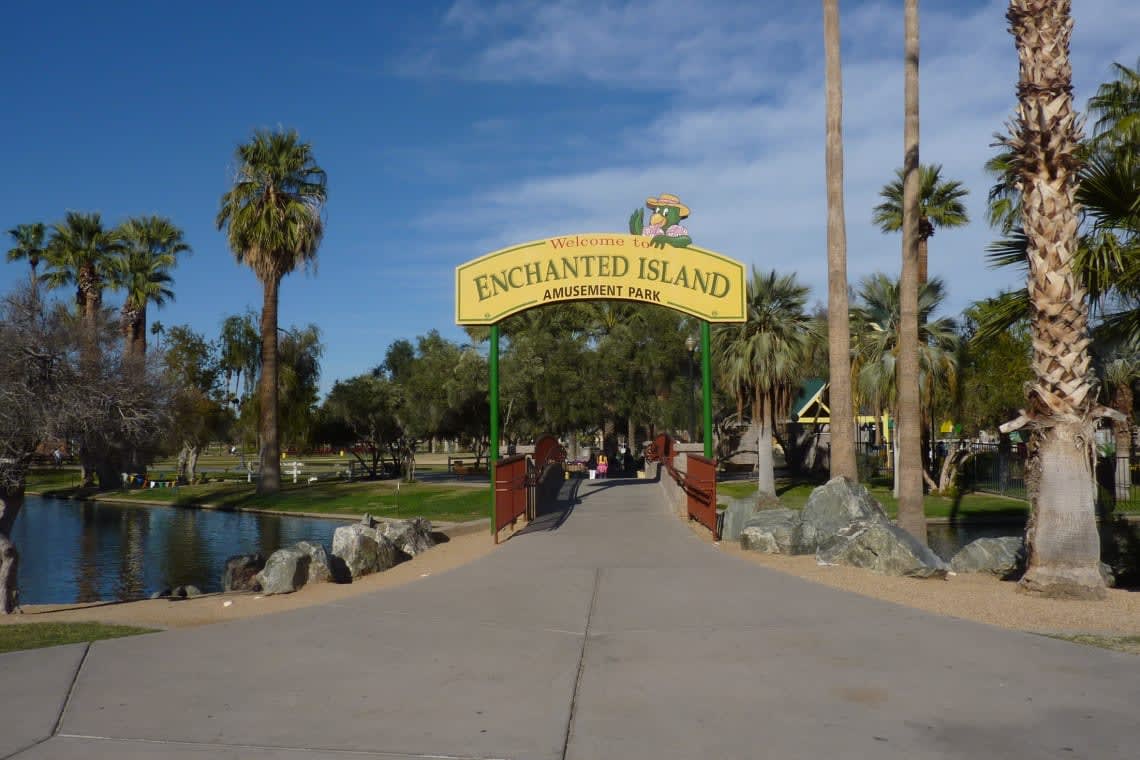 Encanto Park has been named one of America's Best City Parks by Forbes, and with good reason. Rent a paddle boat or head to Enchanted Island Amusement Park for some serious fun. Though the onsite amusement park is aimed at kids ages 2-10, the park has something for everyone in the family.
WHERE TO EAT:
Hit up The Edgemont on the way, formerly known as HobNobs Cafe. The selection of pizzas, artisan sandwiches, wraps, and salads include favorites such as Dr. Sky's Pastrami Sandwich and a secret-recipe Voodoo Chicken salad.
2. Steele Indian School Park, Phoenix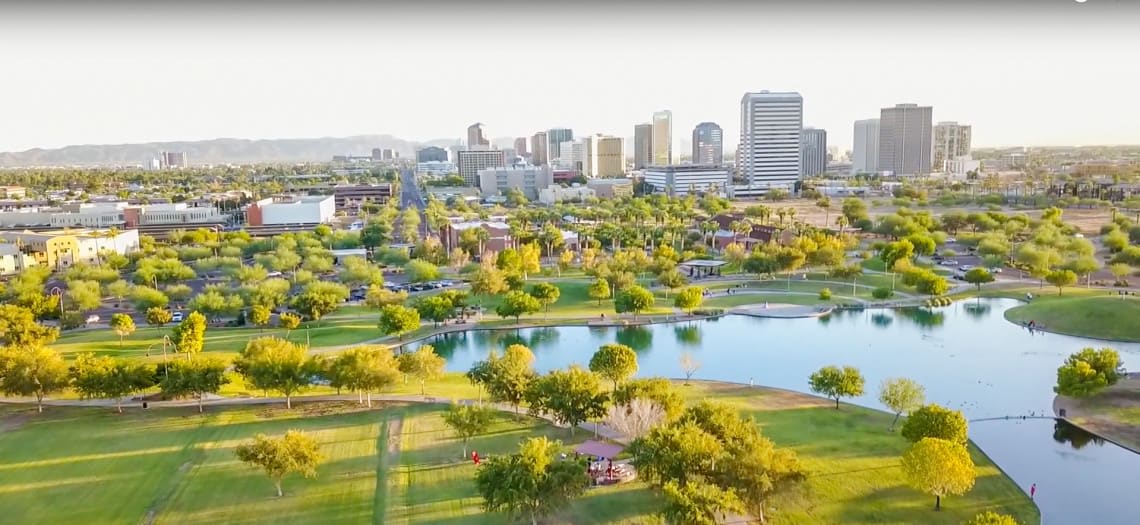 Situated in the heart of Central Phoenix, Steele Indian School Park boasts acres of green grass, a massive bird-shaped lake stocked for fishing, and a taste of local history. Walk around the Circle of Life which lies in the middle of this 72-acre park. This wide circular walkway encompasses the three historic buildings remaining on the site from the Old Indian School.
WHERE TO EAT:
The edge-less sandwiches at Zookz (just north of the park) skip the crust, but not the flavor, in their warmly toasted, neatly sealed pockets. Go for a savory thin-sliced meat and cheese option, or sweet fillings including peanut butter and Nutella.
3. McCormick-Stillman Railroad Park, Scottsdale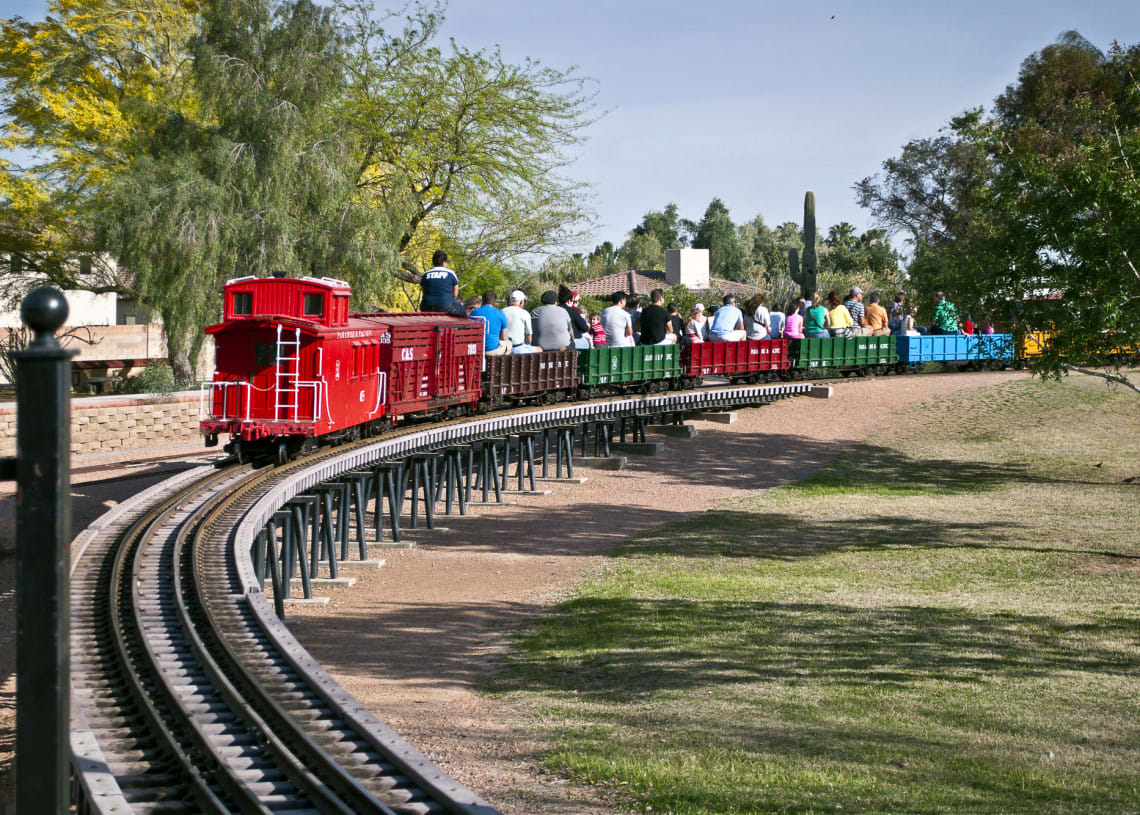 McCormick-Stillman Railroad Park has a bit of everything for kids and kids at heart. There is an antique carousel, museum, and a few options for snacks and sweets nestled between the playgrounds, ramadas, and green grass. Don't forget to bring a couple bucks to ride the train and see the McCormick Historical Railroad Exhibit.
WHERE TO EAT:
Stop at DeFalco's Deli on the way for classic Italian subs.
4. Desert Willow Park, Cave Creek
Desert Willow Park is especially unique because it offers plenty of picnic space, playgrounds, and an outdoor fitness center. Placed throughout the one-mile jogging course are several stations designed to increase flexibility and muscle strength.
WHERE TO EAT:
For a wide variety of sandwiches, soups, salads, beer, and vegetarian and kid-friendly options, check out the The Grotto Café, located just a couple miles north of Desert Willow Park.
5. Papago Park, Phoenix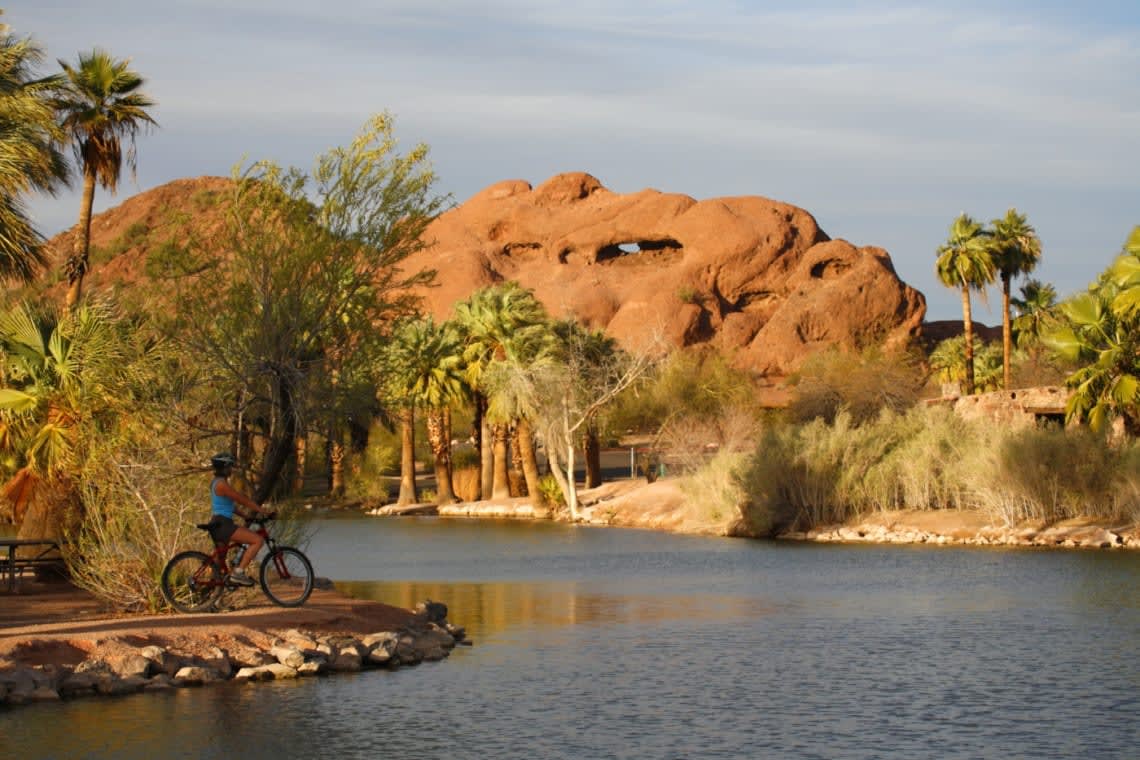 Papago Park is a great open space for anyone looking to get active in the Valley of the Sun. The park features trails for hikers, mountain bikers, and runners. The buttes themselves are also climbable, which serves as an awesome spot to catch the sunset behind the urban skyline to the west. This spot is also near the Phoenix Zoo and the Phoenix Desert Botanical Garden, so you'll have some additional post-workout options if you want to stay outside a bit longer.
WHERE TO EAT:
Check out Capriotti's Sandwiches down the way for some award-winning subs such as their famous cheese steak! Capriotti's prepares made to order sandwiches with homemade ingredients, taking the time to roast whole, all natural turkeys and roast beef in house. Yum!
6. Freestone Park, Gilbert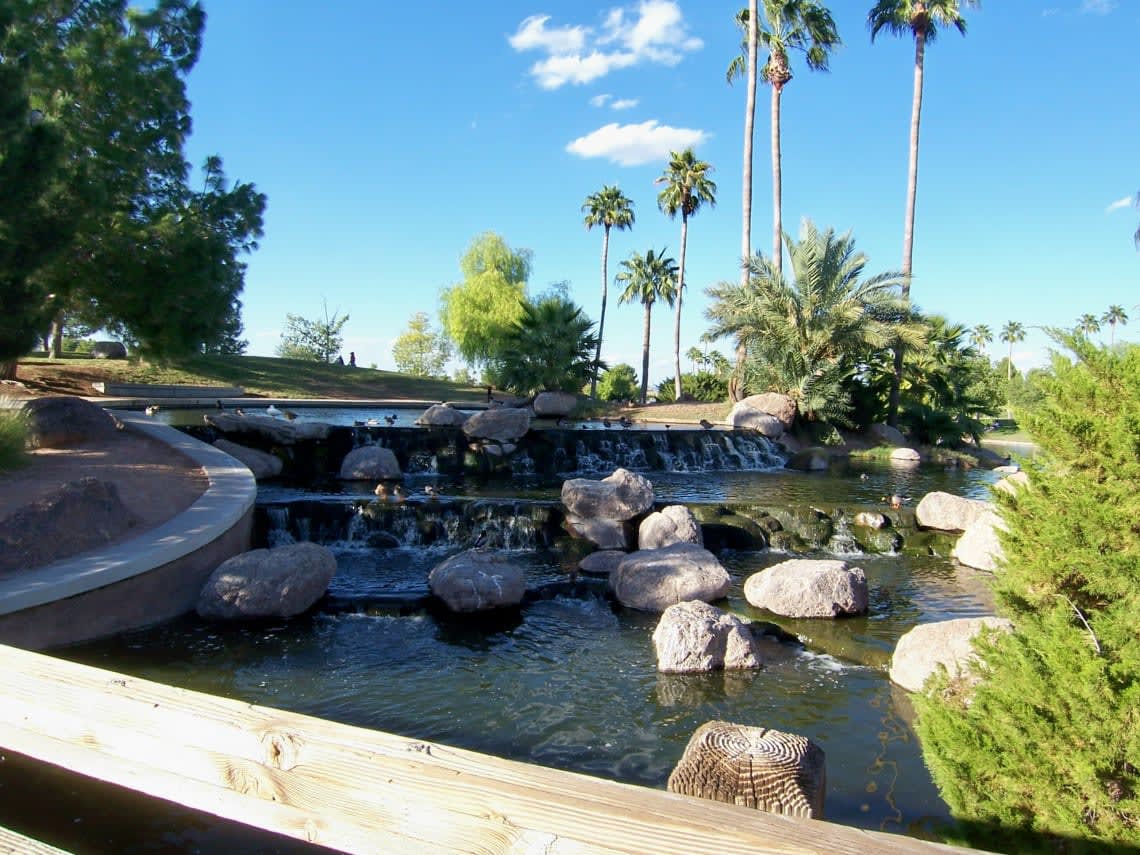 This 120-acre park is at the center of Gilbert and a landmark in the growing town. There are two lakes, a skate park, sand volleyball courts, basketball courts, softball fields, and several playgrounds for the kids to run around. Don't miss the train that circles the park all weekend long!
WHERE TO EAT:
Less than two miles from Freestone is a Gilbert classic: Joe's Real BBQ. Try the pulled pork sandwich, ribs, mac 'n' cheese, cole slaw or any of their other homemade dishes and sides.
7. Indian Bend Wash, Scottsdale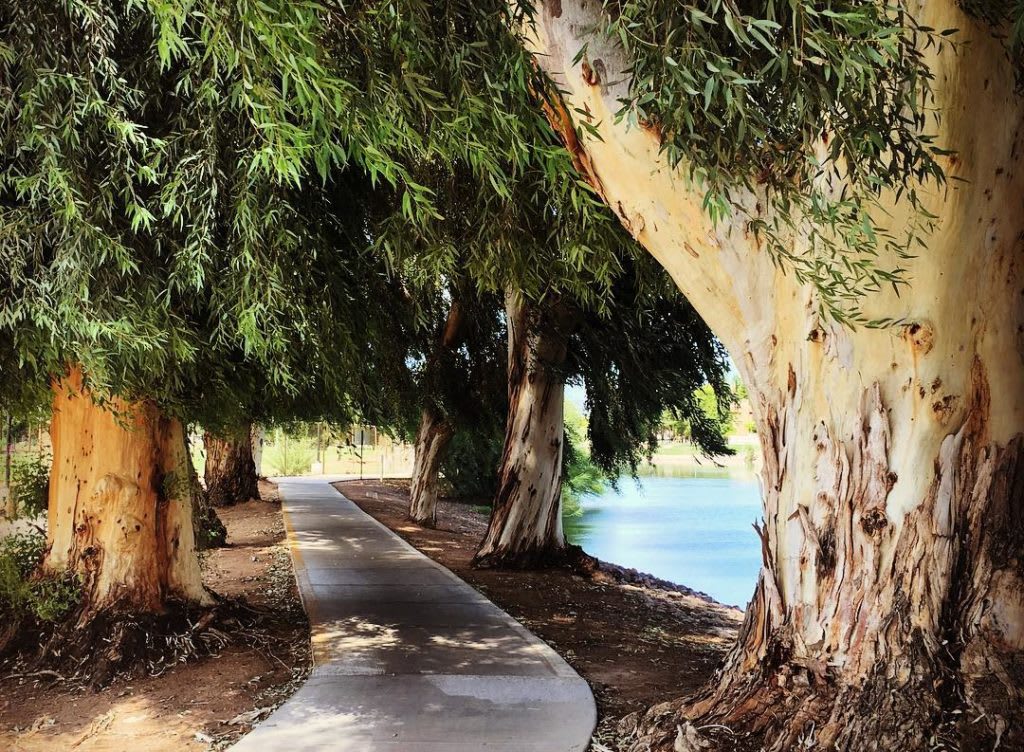 While not a single, stand-alone park like the others on this list, the Greenbelt in Scottsdale is still a phenomenal way to get outdoors while seeing the majority of what lands us on the list of America's best cities. This paved path spans north to south for 20-plus miles just east of the Phoenix city limits. Beginning at East Shea Boulevard between North 90th and North 92nd Streets and ending at Tempe Town Lake, you can hop on your bike or lace up the running shoes and enjoy a long, uninterrupted experience of Scottsdale while keeping fit. There are several other parks along its route (like Chaparral Park), as well as points to access stores for any food/hydration needs.
WHERE TO EAT:
Hop off your bike at the end of your ride and grab a beer at PHX Beer Co. Located right off of Lake Marguerite, this spot offers the perfect outdoor patio to rest up on while enjoying a cold beer and cheeseburger before your ride back.