We all love a good mural, and The Valley is full of them thanks to many talented local artists!
To make things a little more interesting, we took this blog a step further, each of the murals mentioned are all located on or near various local restaurants so that not only can you go out and enjoy some art but your can also try a new breakfast, lunch or dinner spot!
Downtown Phoenix
If you've ever drove down Roosevelt row or walked through downtown during First Friday, you've likely come across this beautiful work of art outside of
MonOrchid
which neighbors
be Coffee + Food + Stuff
. Or maybe you've seen it across your social media feed, whatever the case, this is probably one of the most recognizable murals in the city of Phoenix! It displays an impactful quote by Mother Teresa which is meant to raise awareness and spark compassion towards the homeless population. The best kind of art is that which tells a story, or teaches a lesson, and this piece by artist Brian Boner definitely does both!
Read more about the creation and inspiration for this piece
here
!
Phoenix Warehouse District
The Phoenix Warehouse District which is located just South of Chase Field is home to some of the most breathtaking murals in the valley, this one included! This mural by
Michael Angel Godoy
was thoughtfully curated to tell the story of the warehouse district's history and all that it represents (You can read more about it on
Michael Godoy's Instagram page
). This beauty is on the warehouse just in front of the Lawrence Building where you can find
The Larry
(Monday-Friday) or the new and trendy sushi restaurant
Kaizen
(On Tuesday-Saturday nights) for some delicious authentic eats. If you walk further down this same building you'll find a handful of other impressive murals by the same artist which further depict this area's rich history!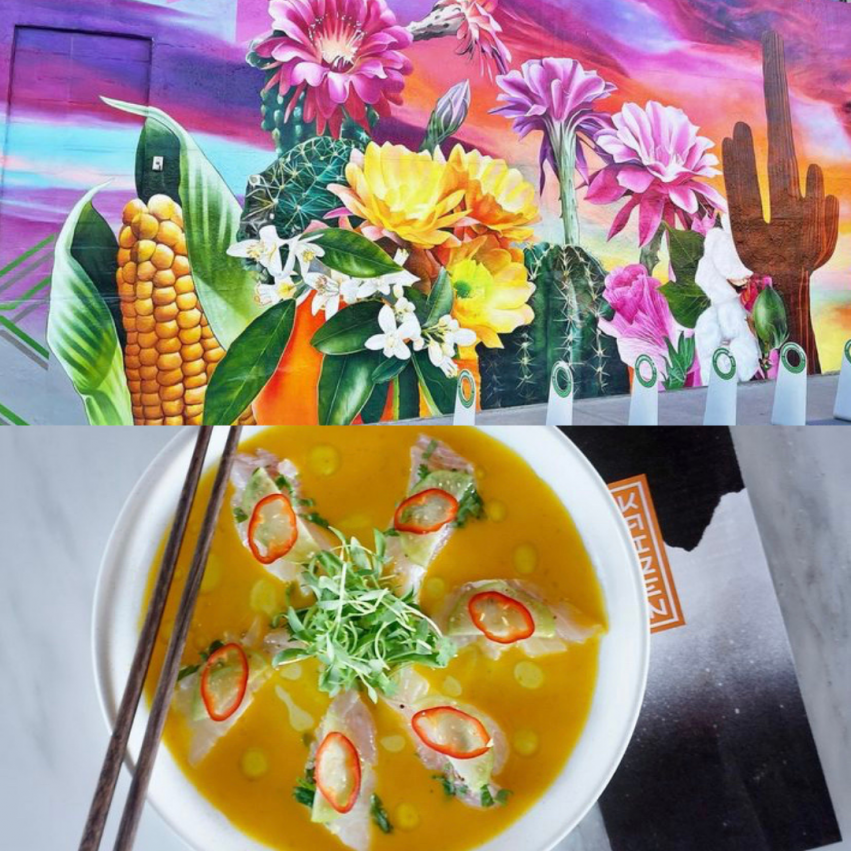 Old Town Scottsdale
Local artist
Lauren Lee
created this vibrant and very much highly Instagrammable mural outside of
Geisha A Go Go
, a sushi and karaoke bar in Old Town Scottsdale. This piece tastefully display two of the things that we Phoenicians love most about Arizona; our beautiful desert landscape and unbeatable sunsets! There's really nothing better!
Tempe
Would you take a look at this beauty! This show stopper can be found near University Drive and McClintock in Tempe outside of
The Social Hall
restaurant
.
Being just a short drive away from Mill Ave, this mural is near all of the action to say the least! So on your next fun night out on the town in Tempe, make sure you make a stop here to see it for yourself! This mural is sure to spice up your social media feed!
Cave Creek
This colorful Arizona mural is located outside of popular Cave Creek Tavern & Café
Local Johnny's
.
Next time you find yourself in Cave Creek, support local and grab a bite at this yummy spot and don't forgot to capture a shot of yourself in front of this stunning artwork by
Katie Von Kral
! If you go on a weekend, you might even get to enjoy some live music!
North Scottsdale
Abstract art and fine dining, can you think of a better way to spend an evening?
The Americano
serves an elevated "
European style
" cuisine sure to make your mouth water. The ambiance at this restaurants is impeccable, perfect for a fancy date night or business dinner. So if you're in North Scottsdale and want to have a memorable night, The Americano will surely satisfy with both it's food and beautiful mountain mural!
North Central Phoenix
One of the many beautiful things about our state is that it is a huge melting pot which opens the door to so many new and amazing foods, art, and experiences! If you haven't heard of or visited
Otro Cafe
, you need to add this to your list of must visit restaurants ASAP! This restaurants offers some of the most delicious "
Mexico City-style cuisine
" which is sure to leave you wanting more. Their menu is, well, put simply, *chefs kiss*! From Posole and Chilaquiles to Dulce De Leche Flan and Cajeta Pancakes there's really no going wrong at this place! Go, go, go! And on your way out, don't forget to also check their awesome mural! (In case you couldn't tell by all the exclamation points, this place gets us excited)
Click here
if you want to know more about the Chef and this restaurants concept!
Gilbert
A good ol' city sign never gets old, especially when done well like this!
This sign is located outside of very the well know
OHSO Brewery
, specifically the Gilbert location as you probably could have guessed.
One of the amazing things about the greater Phoenix area is that each town has it's own character and individuality to be explored and enjoyed, and if you haven't gotten around to exploring Gilbert visiting this spot is a great place to start. Be on the look out for many more murals during your visit because talented students from
The Art House Gilbert
have made their mark all around town! How many murals can you spot?
Downtown Chandler
Local artist
Lauren Lee
does it again! You can find this piece behind Saba's Western store but as promised, it is also just steps from multiple yummy spots for you to choose from!
Sasha's Kitchen & Cocktail's
,
The Brickyard
,
The Hidden House
just to name few, from lively and casual to trendy and classy, there's something for every occasion!
Arcadia
RKDA... Read that one more time. ARCADIA! (Don't worry, took us a second too)
Does this mural look familiar? That's because it's located right outside of
Doughbird
, one of the most highly favored pizza spots in the Valley! Never been there? Here's the perfect opportunity to go! (You can thank us later)