So, what *exactly* is Hygge?
Hygge is a Danish and Norwegian word that can be best described as enjoying life's simple pleasures. It was created as a concept and lifestyle by the Danish in the 18th century and is now a fundamental part of their culture.
Denmark is considered to be the happiest country in the world. So, maybe the Danes are onto something?
While the word is meant to encompass the Danish way of life, it also embodies their decor. The main idea of hygge decor is to create a peaceful, serene space that is free of clutter. Mess can cause stress, which is the opposite of the calming and happy way of the Danish lifestyle. Even though hygge is a concept that is commonly associated with winter, it was actually meant to be enjoyed year round.
In this guide, you'll learn how to hygge, tips to hygge your home, and the do's and dont's of hygge decor.
hygge:
[hue-gah] noun
A calm, comfortable time with people you love. A complete absence of frustrations or anything emotionally overwhelming, often enjoyed with good friends, drinks, warm blankets and candlelight.
The Danes take their lighting very seriously as they are surrounded in darkness for much of the winter. A "hyggelig" home not only draws in as much natural light as possible, but then also has carefully selected lamps to create soothing pools of light.
The same goes for wood accents. Wood floors, furniture, even toys — all help us feel closer to nature. And that is a very important part of the hygge concept.
2. Create Your Own "Hyggekrog" or Nook
Every hygge home needs that perfect place to curl up with a blanket and relax. Danes refer to this as their hyggekrog… their nook. It's a space where they can be at peace and feel safe, read a book and have a cup of tea or hot cocoa.
Layer pillows and throws to make your nook the epitome of hyggelig, and try to disconnect from the noise of everyday.
Huddling around the fire, whether it be outside or inside, is a huge part of the Danish culture. It is the perfect time to gather with friends and family and be thankful for the company that you keep. Therefore, having a fireplace is an essential element to hygge decor. It represents warmth and togetherness and is most fun when enjoyed with loved ones.
To bring this into your home for year round hygge, making the hearth the focal point in the room (rather than the TV, for instance) will help create that intimacy. Also, make sure you have ample amounts of blankets and pillows on hand for spur of the moment hang outs with friends.
If the weather is too warm for a fire, consider adding candles inside your fireplace to add to the ambiance without creating any heat.
The Danes are big nature lovers. They love to go on long walks and hikes even when it's cold outside. So what do they do on a rainy day when they cant enjoy the outdoors?
They bring the greenery indoors. A few houseplants — think ferns, spider plants, and weeping figs — can go a long way. In fact, gardening has been scientifically proven to lower blood pressure and boost endorphins, which can bring about feelings of euphoria. Another easy way to hygge is to add a small aloe vera plant in your kitchen (for soothing burns) and fresh flowers once a week.
5. Create a Spa-Like Bathroom
Instead of just using your bathroom for a quick shower in the morning, make it a relaxing retreat. Your bathroom should be a place you go to for rest and rejuvenation. To create a bathroom that is pleasant and peaceful, make sure you to have lots of hidden storage space to avoid any unwanted clutter.
For extra enjoyment, invest in candles and comfy robes for a design that is laid-back and serene.
6. Create an Ambient Glow
One of the essential things in hygge decor is candlelight and lighting. On cold winter days in Scandinavia, there is usually only one hour or two of daylight, which makes candlelight so essential. Candles are used in the morning through the evening hours to create a warm, cozy atmosphere.
The soft and kind glow of a candle cannot be replicated by anything else and should be used throughout your home to create a warm radiance.
7. Use Textures To Soften Spaces
Texture may not be the first thing that comes to mind when you think of cozy hygge decor. However, introducing texture to your living space is a great way to add interest to an otherwise minimalist design. Create these inviting spaces with natural textiles—such as cozy wool blankets in the winter and light linens in the summer.
Another option can be wrapping yourself in something cozy like a sweater and throwing on some cushy slippers.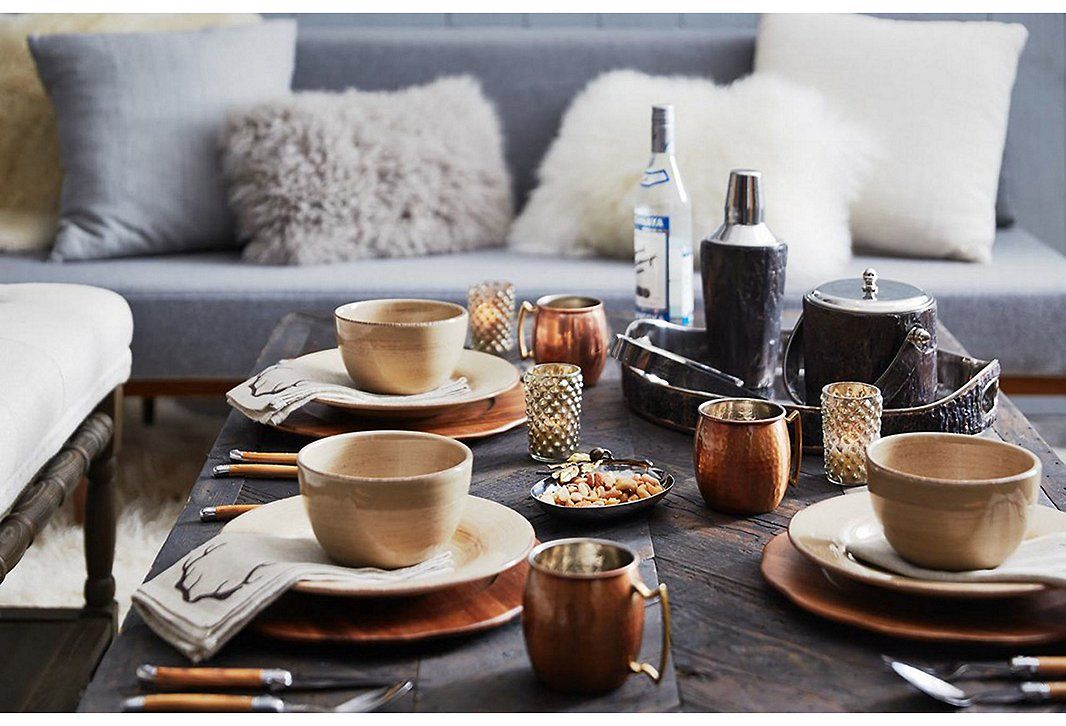 Community plays a huge role in hygge, because it is believed that life's feel-good luxuries are best experienced in the company of friends. You can apply this to any number of activities: watching a movie and sipping coffee by the fire, hiking in the woods or simply reading a book next to someone else.