Do images of Chip Gaines' "demo day" come to mind when you think of updating your home? Well, not all updates have to turn your home into a construction zone! In fact, there are multiple bathroom updates that you can do yourself to revamp this space of your home! Not to mention, bathrooms are a great opportunity to get creative with your design style in a way that can sometimes be intimidating to do in other areas of the home. So if you're looking to give this space in your home some extra love, here are 8 Easy Bathroom Updates - No Remodeling Required!​​​​​​​
​​​​​​​

1. Experiment With Wallpaper
Wallpaper is a simple way to take your bathroom from ordinary to designer in just one step! The best part is, thanks to peel-and-stick wallpaper, anyone can do it! Adding wallpaper to a bathroom is a great way to display your individual design style as the wallpaper you choose changes the overall feel of space. For example, in this picture, this dark wallpaper makes the space moody and eclectic with the feather additions down to the moody dark colors. Alternatively, if a soft neutral option was used such as this pick from the , the space would feel contemporary, calming, and a bit more sophisticated.
​​​​​​​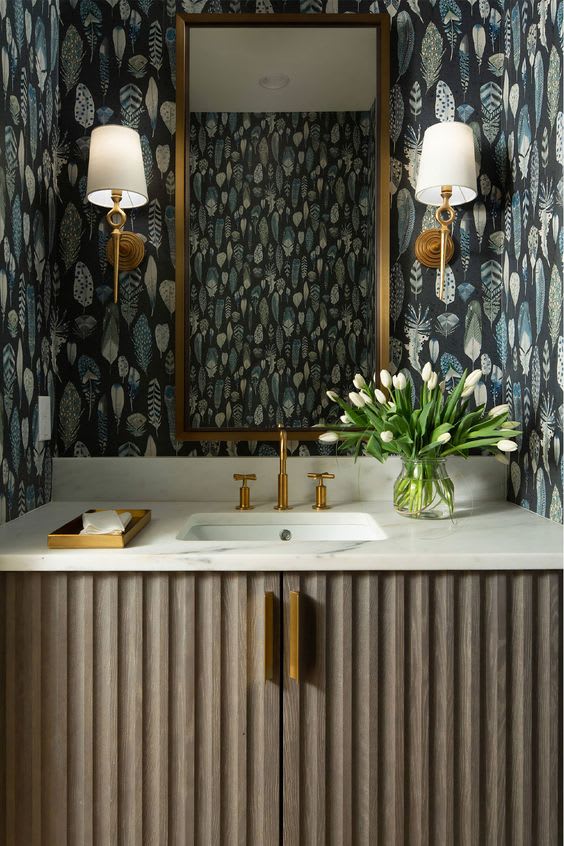 2. Change Up The Hardware
Playing with hardware is a fun way to jazz up your bathroom! Hardware is like the jewelry of a home - a sparkling finishing touch! Changing your hardware can completely transform your cabinets! Matte black hardware tends to create a clean and classic modern look. On the other hand, switching to gold brings in some warmth and sophistication. The type of gold you choose matters too! A more brassy gold leans more midcentury modern or rustic/industrial whereas a shiny gold is more glam. If your style leans more on the vintage side, this is a perfect opportunity to bring in some character through unique antique options!
​​​​​​​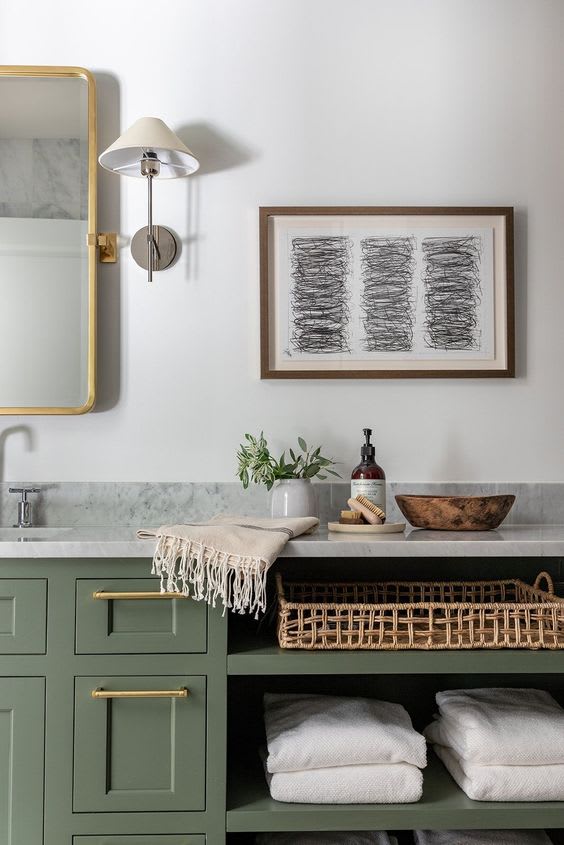 3. Play With The Lighting
Playing with lighting can be as easy as adding candles to a space and lighting them! After all, that's the hygge way! You can also take it a step further and change up the bulbs in your fixtures. This alone has a huge impact, especially when switching from cool lighting to warm. Cool lighting has it's benefits because it's brighter and thus provides more visibility which might be important to you if like to get ready in the bathroom. On the other hand, warm lighting such as the one pictured here, creates a cozy and warm feeling making a space much more suitable to unwind and relax!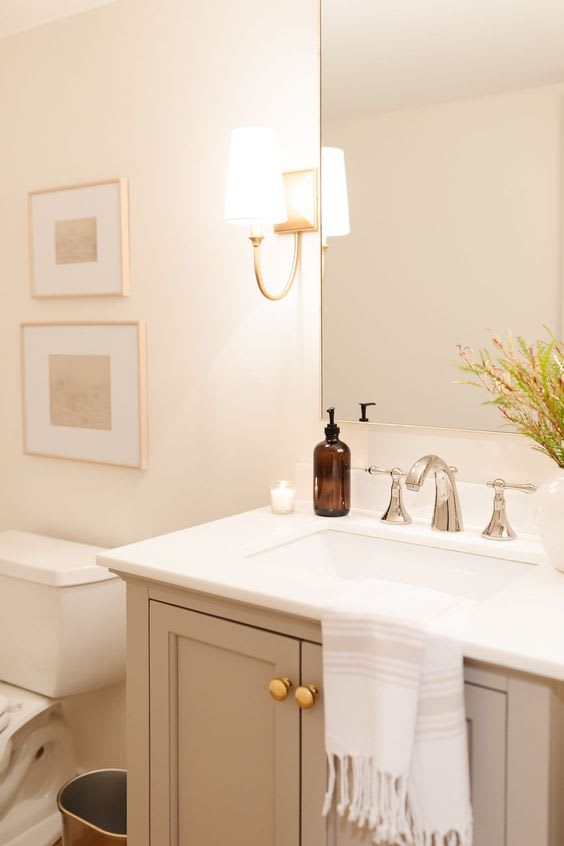 4. Step Up Your Storage Game
Creating ample space for storage is one of the best things you can do for the design of a space! You don't want to put together a masterpiece bathroom with no practical storage to suit the needs of day-to-day life. This will only lead to counter top clutter (arguably the worst kind of clutter). A common issue many run into when trying to incorporate sufficient storage in their bathroom is finding the space to do so. In this case, it's important to get creative!

​​​​​​​If you're lucky enough to have storage space in your bathroom vanity, make sure you are maximizing that space through stackable storage and drawer organizers so that everything has a home. The back of the bathroom door is another perfect spot to add a storage rack for all your quick-grab every day items. Another simple storage hack is switching out your mirrors for medicine cabinets. There are a ton of beautiful medicine cabinets for you to choose from so you never have to compromise style for convenience!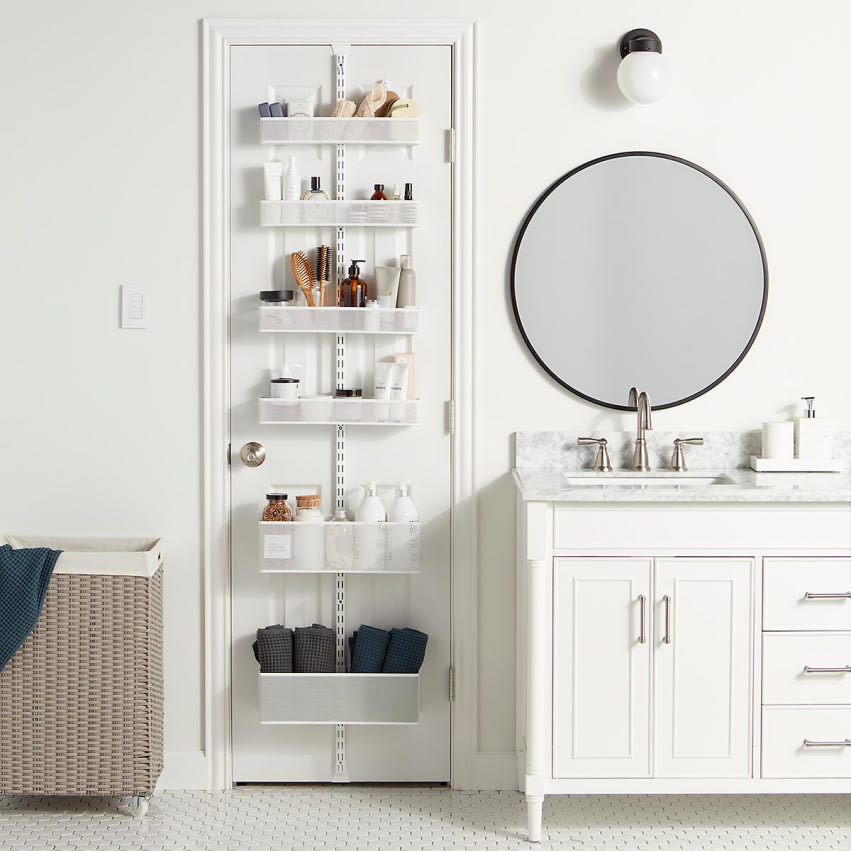 5. Fresh Coat Of Paint
Whether you're switching to a bold new color or refreshing with white, a new coat of paint is always a worthwhile update! Don't get us wrong, we love the trend of neutral colors (especially in a bathroom), but bringing in some color can be just as beautiful and this picture is a perfect example! This creates a cozy moody space that makes you want to light a candle, take a bath, and relax! Yes, a paint color can make you do all of that!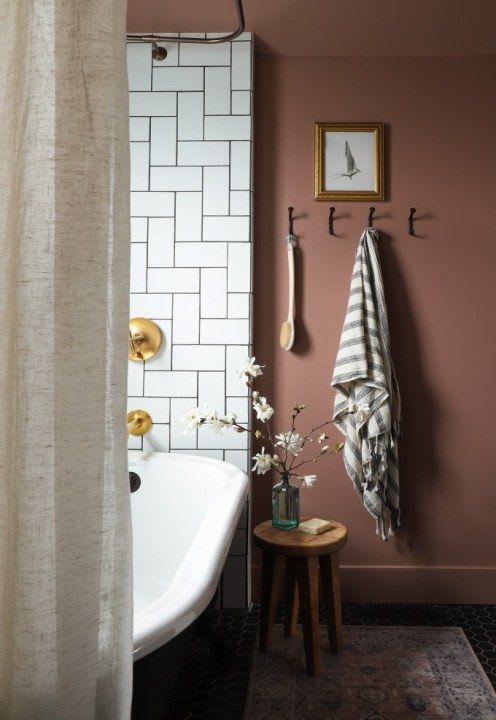 6. Upgrade Your Shower Curtain And Bath Mat
This upgrade can be as easy as one quick Target run, and who doesn't love those? Even though this upgrade is simple, it's still important to be intentional about colors, textures, and patterns in the curtain and bath mat you choose. There's really two different angles you can take- making the bath mat the focal point or the minimal complementary route. Making your shower curtain and bath mat he focal point is a good option for bathrooms that have a simple design thus making them the perfect canvas to bring in some visual interest. is a great place to shop for some statement pieces! Alternatively, if you want something more complementary because you already have lots of patterns and textures in other parts of the bathroom design, go with less is more!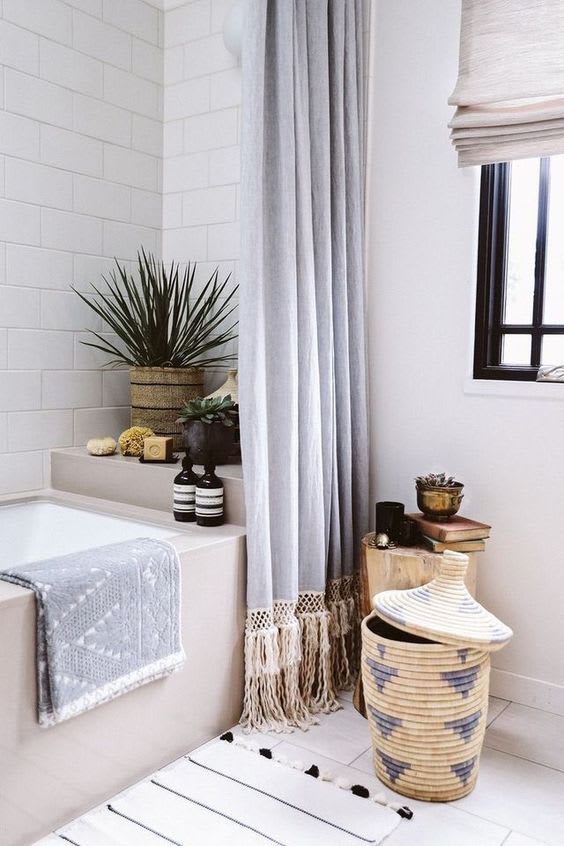 7. Upgrade Your Shower Head
If a rain shower head isn't quite in your budget, don't fret, there are many other great options out there for you! In fact, the market is filled with showerhead options that are not only visually appealing but also offer various spray settings so that you can have the most enjoyable shower possible! is similar to the one pictured and has dual shower heads and 6 different spray patterns. You shower every day, so why not make it an amazing spa experience?

Pro Tip: Buy some eucalyptus shower steamer tablets to fill your shower with spa-like aromatherapy!
​​​​​​​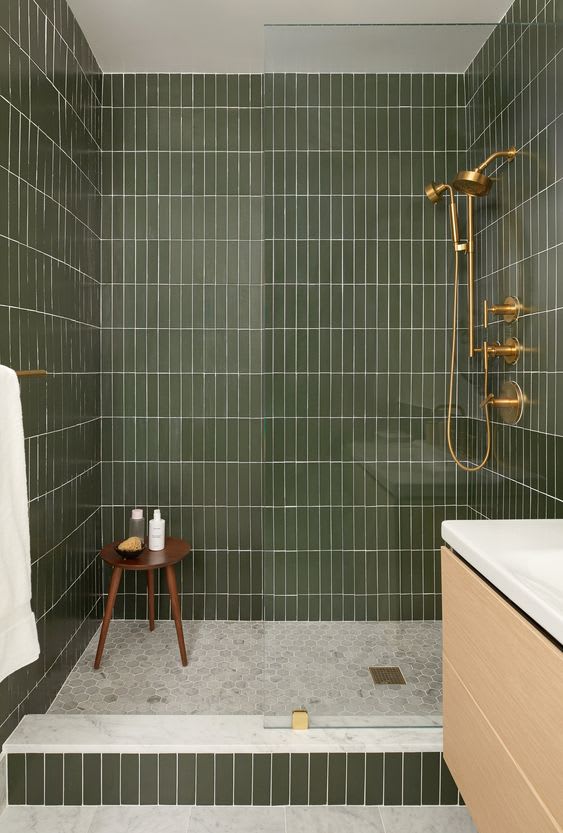 8. Refresh the Grout
When you think of a fabulous bathroom, grout probably isn't the first thing that comes to mind, but we're here to say- don't underestimate the power of clean grout lines! Grout is one of those things that you probably don't notice until it's not looking too great and then you realize what a huge impact it makes on the appearance of your beautiful tile. Thankfully, if your tile is in good shape, this is update is something you can probably do yourself, read how here!
​​​​​​​