That decrepit storage shed in your backyard could very well be your new favorite place to unwind, get creative, or escape from the world.
More women are turning to backyard sheds, dubbed "She Sheds," to create space away from home to call their very own. They're using these hideaways for yoga, reading, writing, gardening, or just to grab a few minutes of peace and quiet. After all, men have their "Man Caves," it's about time women find their own blissful at-home getaways.
We've gathered a few of the best she sheds to give you some decorating ideas for your own DIY projects!
1. The Cozy Cottage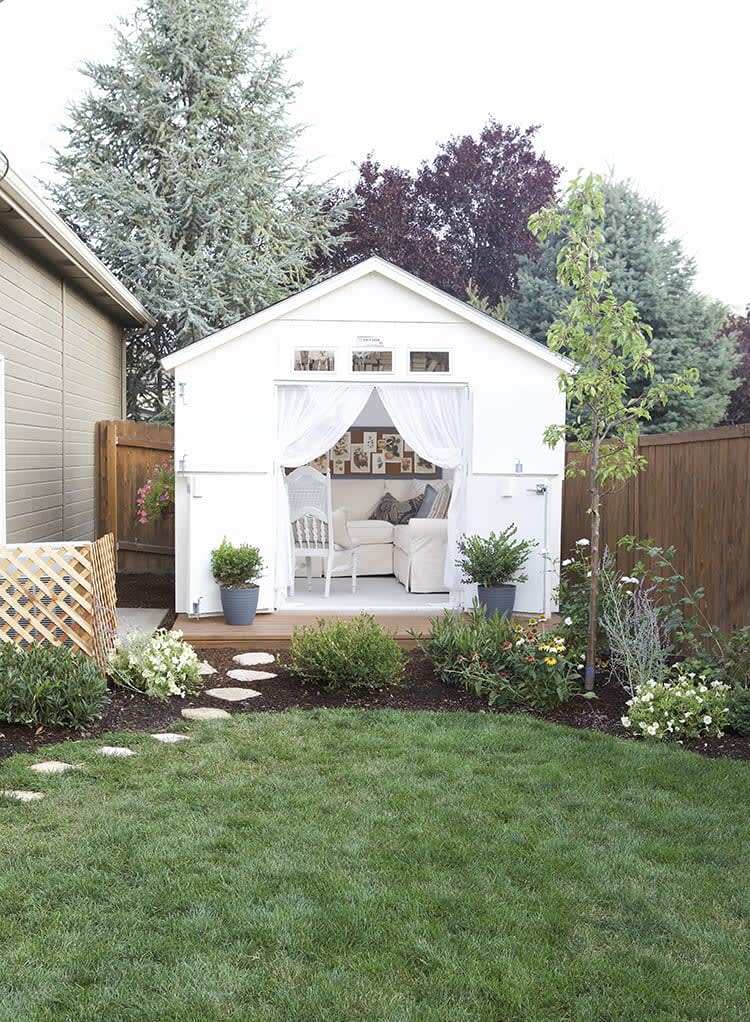 Designed by Kristen Whitby of Elle Claire, this she shed provides a relaxing retreat filled with plenty of feminine vintage charm. This project started with the installation of a Sundance TR-700 shed from Tuff Shed and was transformed by covering up the wall studs with sheets of bead board, painting the interior walls white to brighten the space, and adding whitewashed planks to the inset portions of the ceiling to define and heighten the roof.
Since the walls and ceiling of this shed are white, you want to make sure you use contrasting them with the use of colorful furniture to fill the space. In this project, Kristen used a cream couch but made sure to pull pretty dusty blues and grain sack pillows to create the cottage feel.
2. The Home Office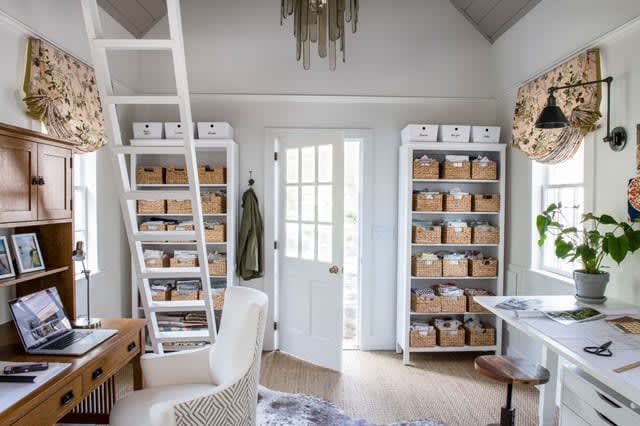 Amy Mitchell from Home Glow Design had the fun task of transforming this 19th Century blacksmith storage shed into her own personal design studio.
To keep the small space from feeling overwhelmed, Mitchell included extensive storage and stuck with a mainly monochromatic color palette. "You can only choose so many focal points in a room," she says. "You have to choose where things blend and recede." The white bookcases match the white walls behind them, and storage bins and cabinets keep clutter at bay.
To complete the look, she added a glamorous chandelier, a custom geometric fabric office chair, and a fun cowhide rug underneath for a pop of color.
3. Elegant Escape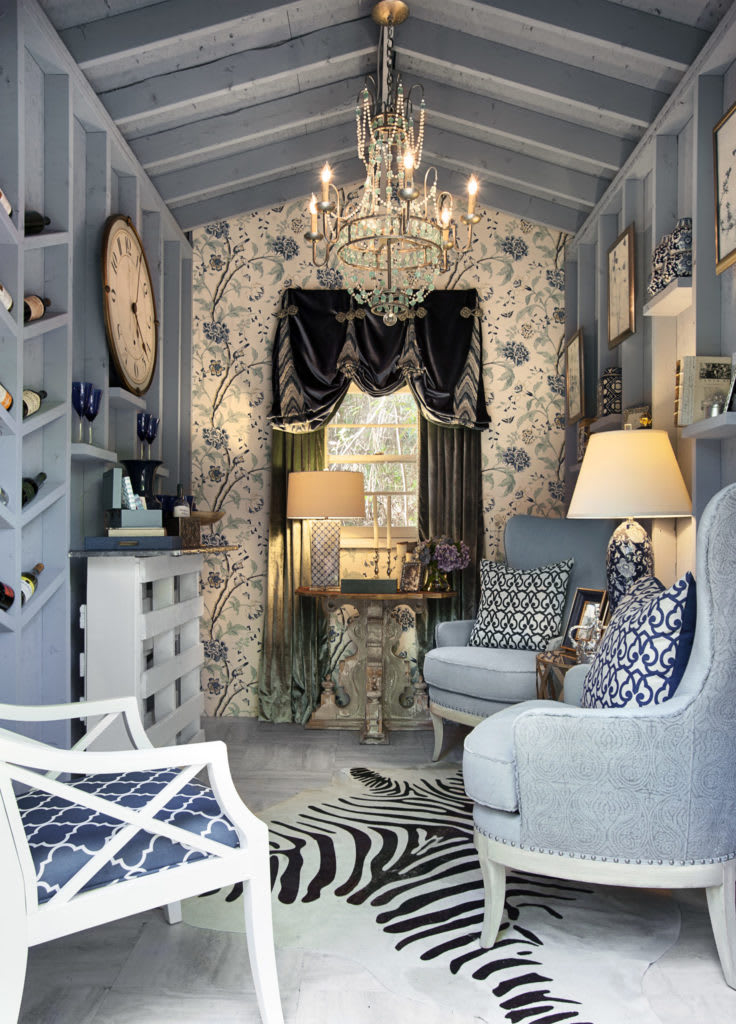 Fancier decor taste? This she shed is for you with crystal chandeliers and all. Designed by Kimberly Grigg of Knotting Hill Interiors, this space offers the perfect getaway to cozy up with a good book and enjoy a glass of wine.
To transform this space, adding splashes of color across the walls really helped to reflect even more light and create a feeling of airiness.
What good is a she shed without wine? If your budget allows, buy two long wine racks or build them into the shed as seen here. This will eliminate the need to go to the kitchen every time you need a new bottle.
4. The Gardener's Dream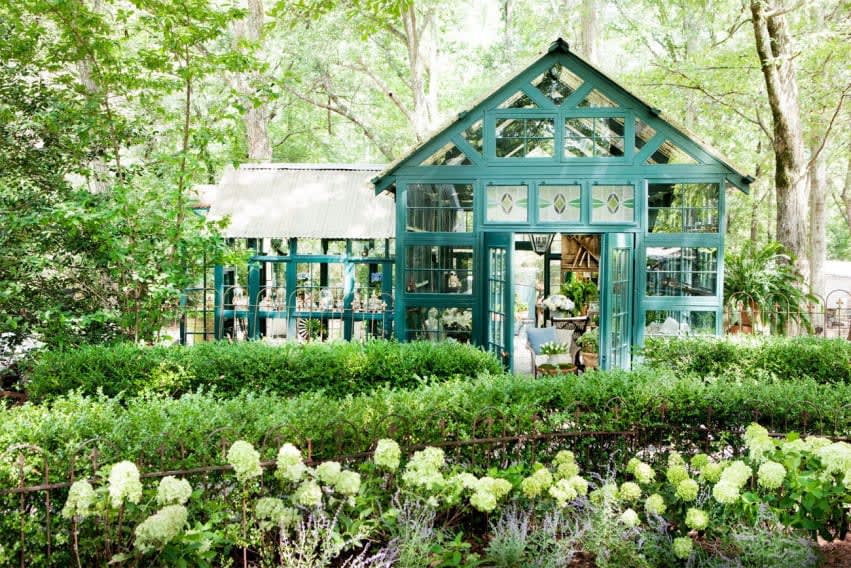 Known as "The Garden Retreat" to owner Susanne Hudson, this glass encased potting shed in Douglas, Georgia is the perfect space to unwind on a rainy day and pore over antique gardening books.
With Country French inspiration, Susanne constructed this shed using 139 salvaged windows plus five French doors that she collected over the course of three years. The magic hour of this place is the evening thanks to hanging lanterns and oil lamps.
If you are looking to turn your next she shed into a greenhouse, make sure there is adequate ventilation with the use of fans during the summer months. Battery powered fans work just as well if your she shed has no connection to utilities.
5. Nautical Oasis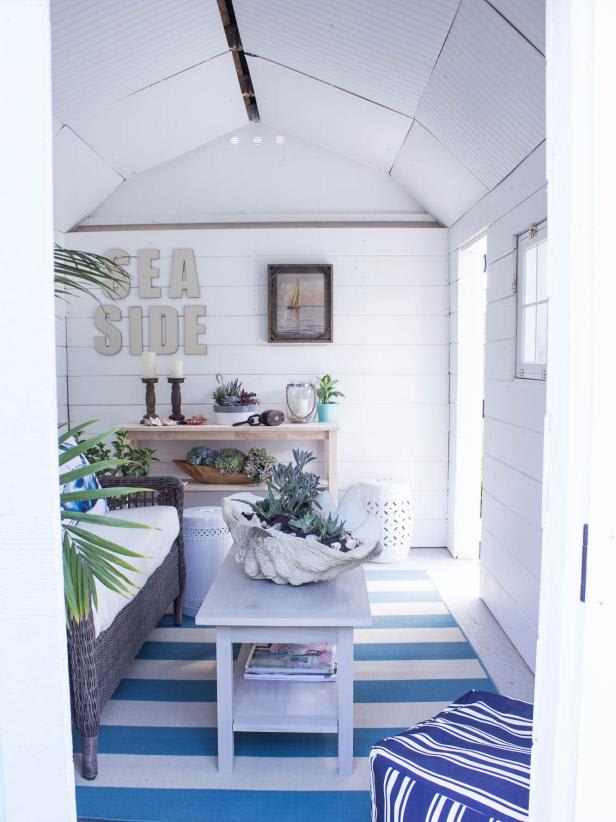 Escape to the beach in your own backyard in this coastal retreat designed by Danielle Driscoll of Scituate Harbor, MA . Crafted from the Horizon model Shed from Sheds USA, Danielle created the perfect oasis by installing shiplap to the interior walls and filled the space with things she loved such as pale sea glass colors, loads of leafy green plants, and plenty of seashells and candles.
Driscoll says the key to creating your dream she shed is allowing for an environment where you feel most at peace to rest, think, write and dream. She also included items that are handcrafted by the people she loved; such as the watercolor pillows designed by her friend Lucy and the "Sea Side" letters from her friend Jennifer's local shop.
6. Artist's Studio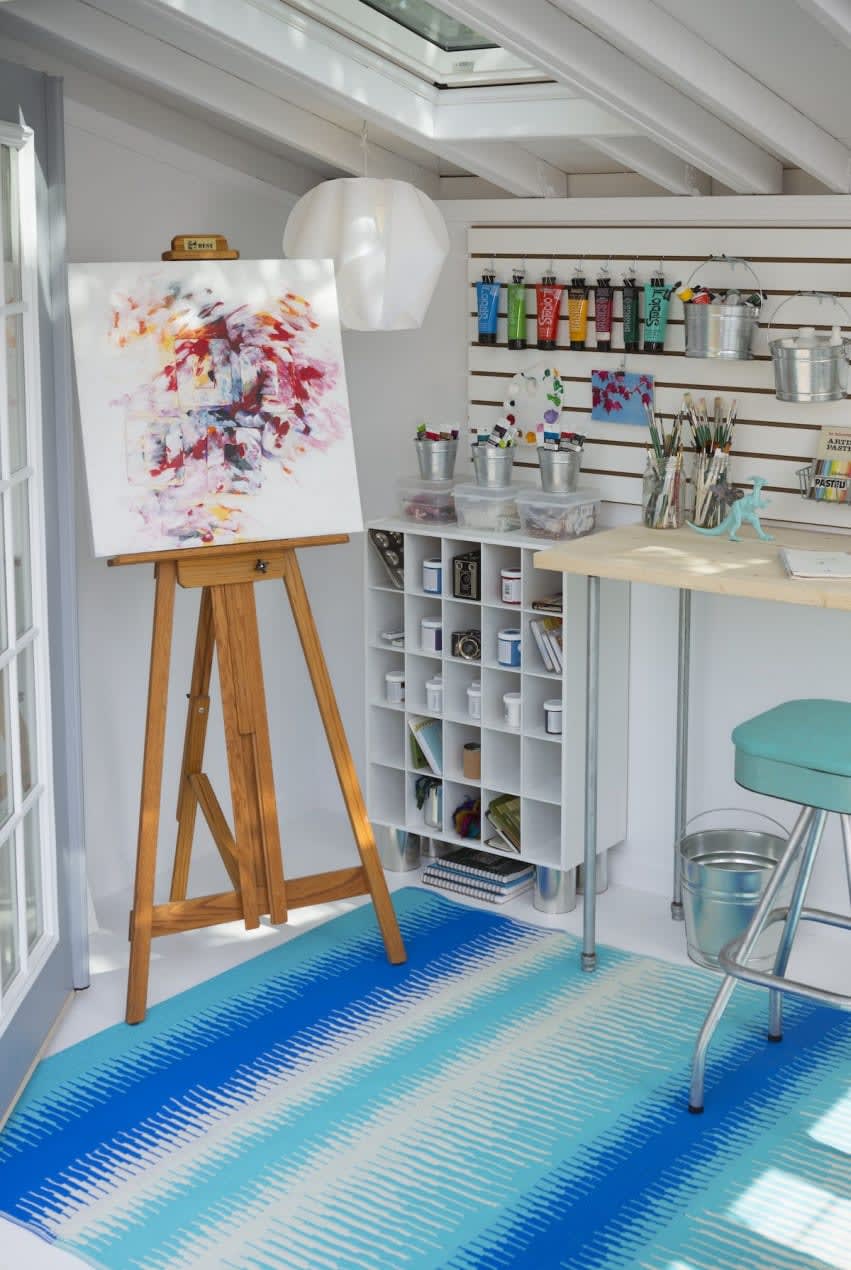 Everyone needs a place to unleash their creative side, and an art studio she shed in your backyard just may be the answer! The skylights in this shed flood the space with natural light and the French doors offer plenty of opportunities to become inspired by your surroundings.
If space is an issue in your shed, then look for a table that has small segments underneath to place brushes and paint kits.