Summer Is Here.
As temperatures begin to rise, sometimes all we feel like eating here in Arizona are big, fresh, colorful salads.
Whether served as a side dish or the main course, they're hearty enough to satisfy your hunger and light enough to keep you from feeling too full. After all, there's not much worse than feeling stuffed and sluggish on a hot day.
So, with a few simple steps and a handful of creative ingredients, wow your party guests by adding a burst of flavor to any weekend BBQ preferably one eaten al fresco.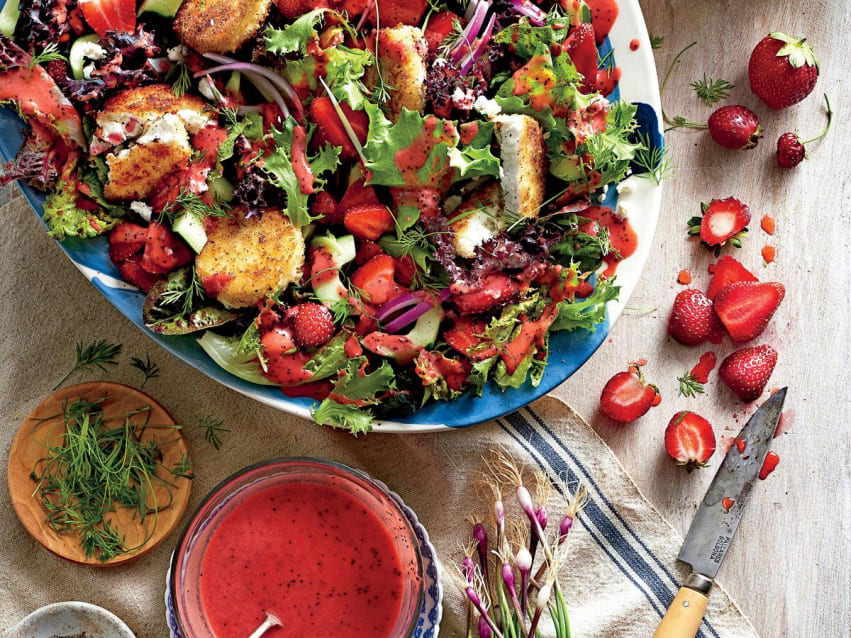 Strawberry Salad with Warm Goat Cheese Croutons
This salad begins with simple mixed baby greens, sliced fresh strawberries, and fresh, cool cucumbers. But the real treats are the rounds of breaded and fried goat cheese.
To prepare the goat cheese croutons, cut a couple of goat cheese logs into rounds. Press each round to 1/2-inch thickness on a baking sheet and freeze for 20 minutes. This process will help the rounds keep their shape and not ooze out of their panko breading while frying.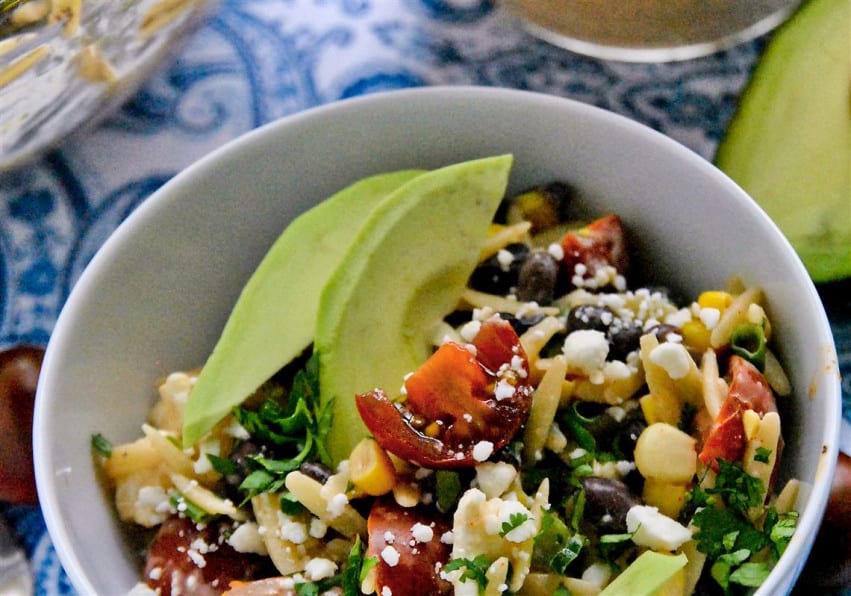 Orzo Salad with Spicy Buttermilk Dressing
Simply adding in wedges of creamy avocado and a fiery buttermilk dressing makes this good-for-you pasta salad feel like a hearty meal.
The recipe is so delicious and so easy to make that you may want to double it. You will probably already have most of the ingredients in your pantry, so it's the perfect solution for a last-minute party or potluck.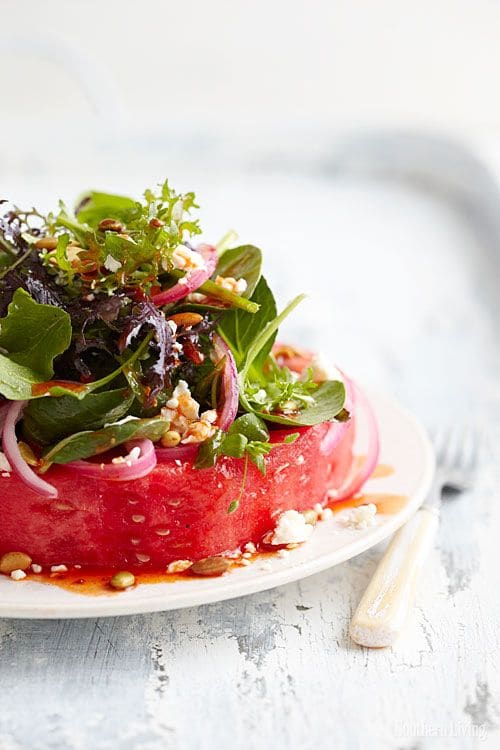 Watermelon "Steak" Salad
A cold, thick, steak-sized slice of ripe watermelon pairs unexpectedly well with beautiful, assorted salad greens, salty Cotija cheese, and a smoky vinaigrette.
You'll get some additional crunch from your choice of salted pepitas or sunflower seeds—both go great with watermelon. For an added taste sensation, try topping this salad with leftover grilled chicken or beef!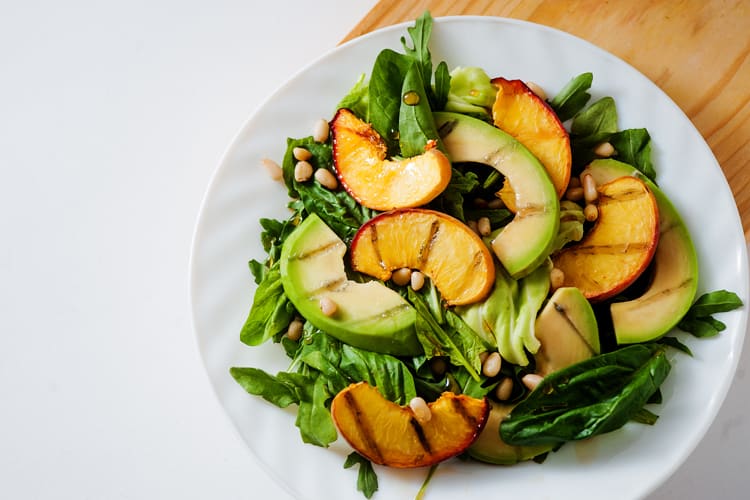 Grilled Peach and Avacado Salad
It's almost impossible to resist the taste of a ripe peach in a fresh summer salad. This recipe brings the heat and keeps everything hot off the grill and straight to the table.
The peach pairs so well with the saltiness of Manchego or Parmesan cheese, and the richness of fresh avocadoes bring it home. Yum!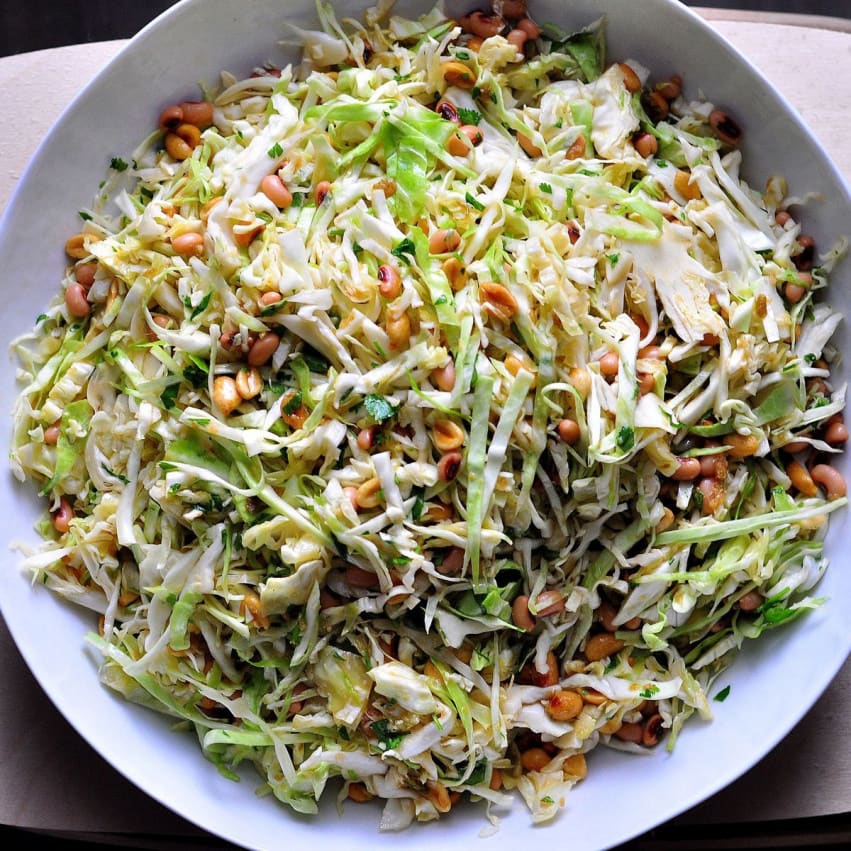 Peanutty Coleslaw
Peanutty coleslaw takes a great, simple dish and makes it better. Using a packaged shredded slaw mix for its base, chopped cilantro, and green onions get mixed in.
As nutty as it may be, this coleslaw also has a little heat, and may bite, because there are both wasabi paste and grated fresh ginger waiting to entice your taste buds.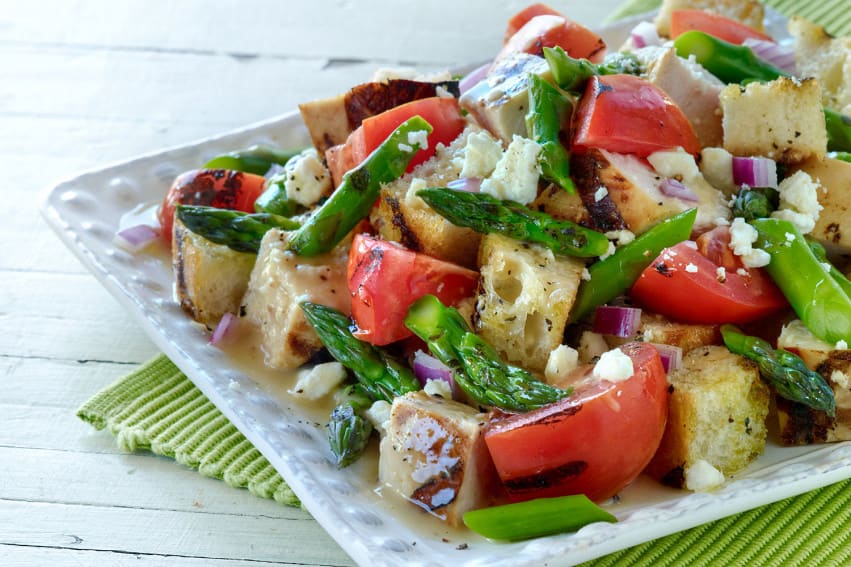 Grilled Chicked and Asparagus Salad
Having a fresh, protein-packed summer salad on the table makes entertaining easy and guests satisfied. The Grilled Chicken-Asparagus Salad starts with boneless chicken breasts that get grilled to perfection, then chopped, and tossed together with asparagus, cheese, and shallots.
This hearty salad is brightened up with mint, lemon juice, and fresh dill. Sprinkle on some fresh herbs, and enjoy.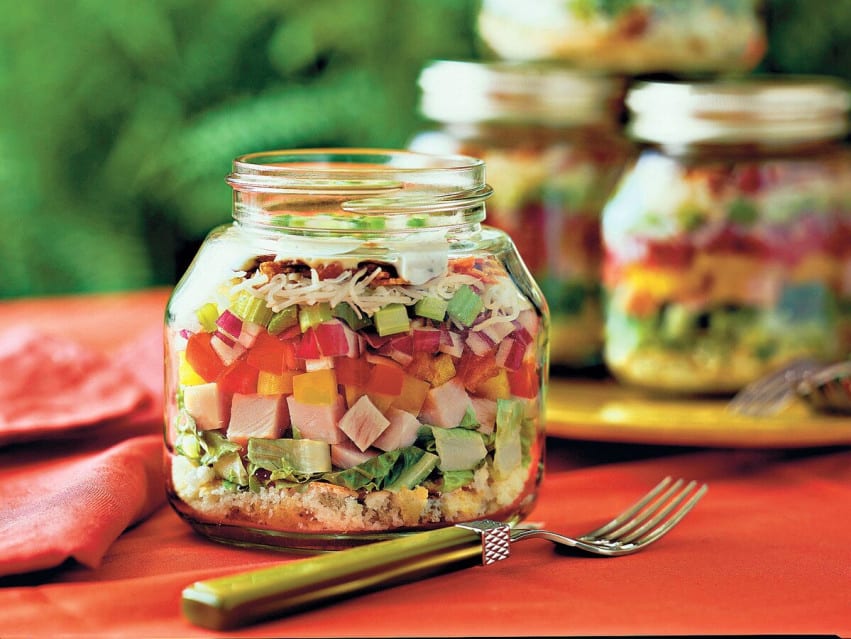 Layered Cornbread and Turkey Salad
Served in glass Mason jars, this all-in-one salad is the perfect picnic snack. Creating a grab-and-go salad means that guests can serve themselves in a casual and relaxed setting and enjoy the party.
This recipe blends some of the delicious flavors of Thanksgiving and lightens them for summer. Chopped smoked turkey is layered with crumbled cornbread, romaine lettuce, tomatoes, and bell peppers. Crunchy bacon gives this salad a great flavor, and the Parmesan-peppercorn dressing adds just the perfect spicy-salty taste.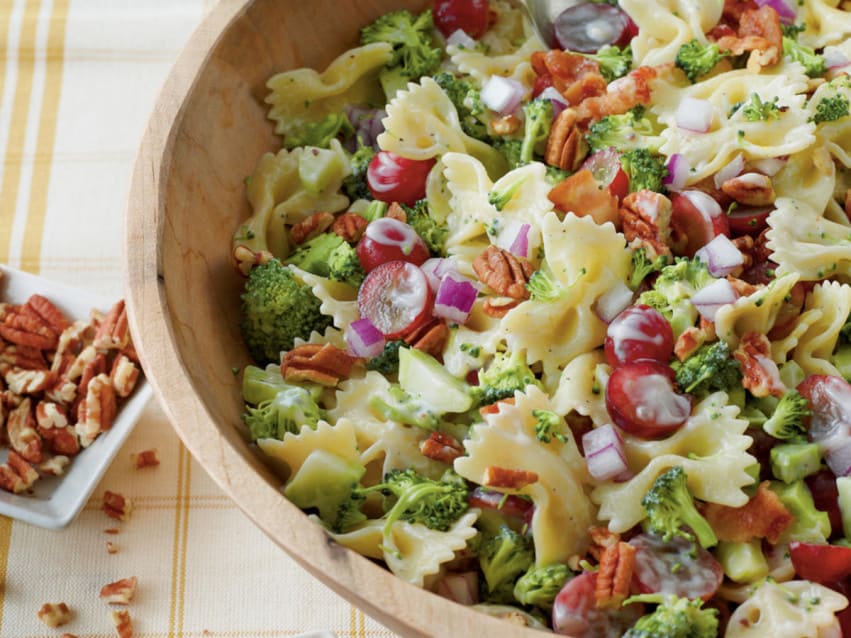 Broccoli, Grape, and Pasta Salad
If you're a broccoli salad fan, you'll love this combination of colorful ingredients. Cook the pasta al dente so it's firm enough to hold its own when tossed with the tangy-sweet salad dressing.
This salad is summer in a spoonful.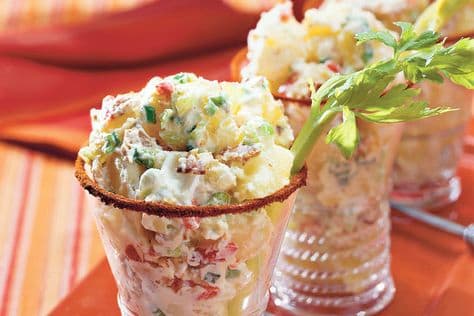 Bacon Potato Salad
Potato salad with bacon is a delicious twist on a traditional summer side. This potato salad is chock-full of green onions, celery, and diced pimiento, and blended with a mix of mayonnaise and sour cream.
To spice up the flavors even more, and to jazz up your presentation, serve this salad in paprika-rimmed glasses. (Simply dip the rims in lemon juice, or lime juice, then into paprika.) This makes a great grab-and-go side dish for easy summer entertaining.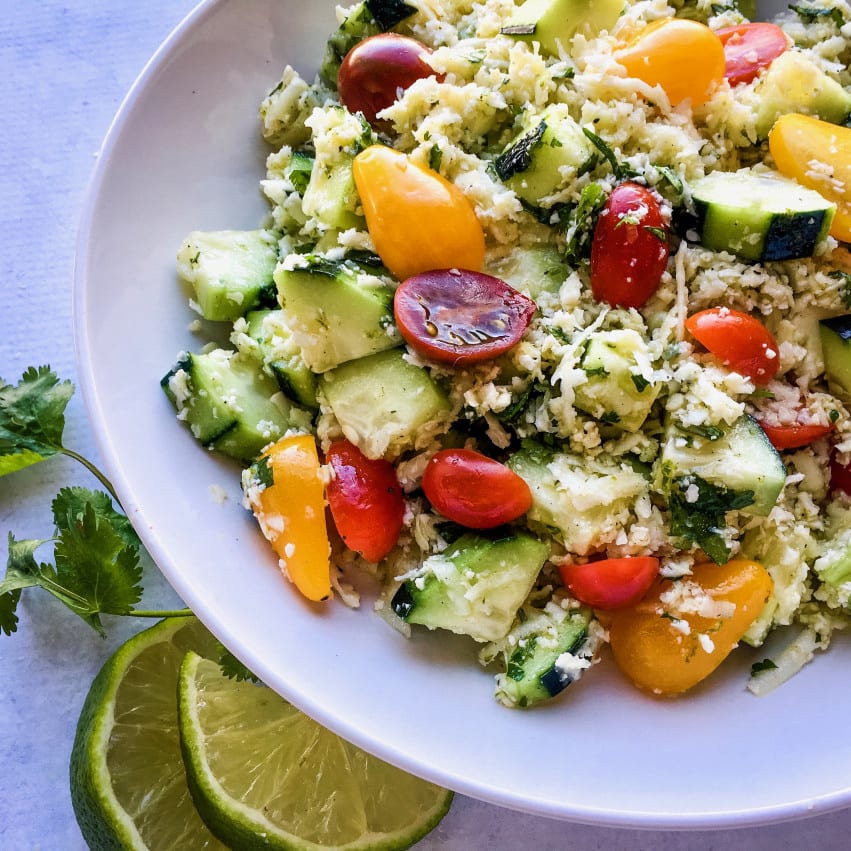 Summer Rice Salad
Perfectly cooked basmati rice has density, texture, and bite, and is perfect for soaking up the flavors from a subtly seasoned vinaigrette. Ditch a mayonnaise-laden potato salad for this fresh, minty number.
This Summer Rice Salad basks in the flavors of fresh lime juice, white wine vinegar, honey, and Dijon mustard. Fresh herbs add even more bold tastes to this liquid delight.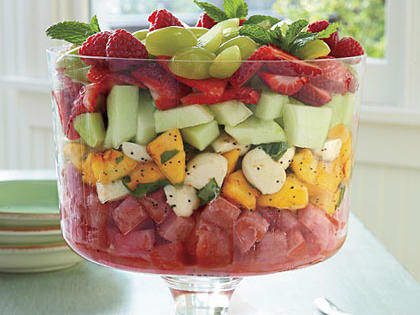 Melon and Mozzarella Salad
This rainbow of summer fruit makes an elegant presentation and a refreshing side for a luncheon, brunch, or dinner. It is filled to the brim with the classic flavors of watermelon, honeydew, strawberries, grapes, and peaches. Cut mozzarella adds creaminess, while a garnish of mint and fresh raspberries makes this salad even more crisp, tart, and cool.
Layer and chill the salad up to eight hours in advance.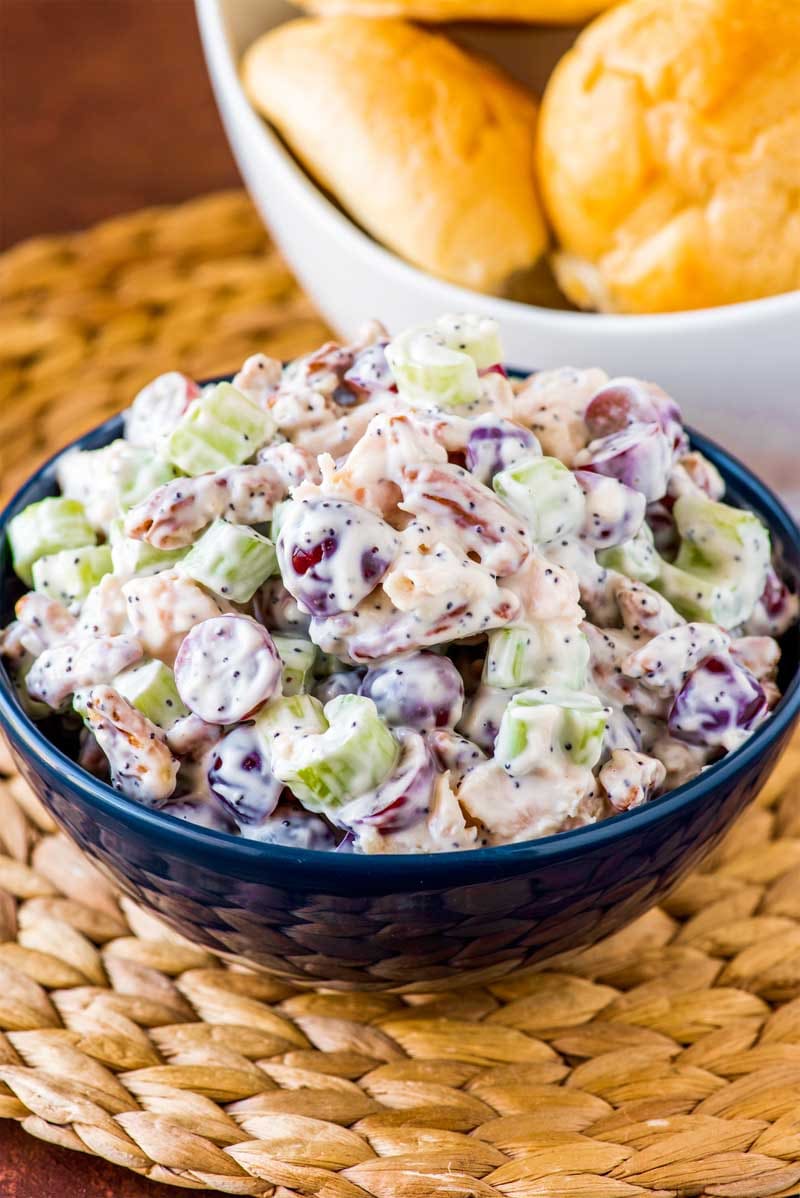 Chicken Salad with Grapes and Pecans
Red and green grapes make the perfect sweet addition to this chicken salad and the pecans make the chicken salad just the right amount of savory.
Serve this as part of a larger salad on lettuce, spread it on some thick, crusty bread for a great chicken salad sandwich, or just pile it on your favorite crackers and relish every mouthful.