During these times where our typical social lives may not involve checking out the newest restaurant or hot spot, it's still imperative to have fun and connect with your other half. Date nights just can't wait. So what are you to do when you can't go out?
We've got just what you need to surprise a worthy couple or spice up your own relationship -- date night subscription boxes!
No matter where you're socially isolating, it's essential to take time to turn off the news and de-stress with your spouse with these uniquely curated boxes delivered to your door step with everything needed to beat a night out on the town any day!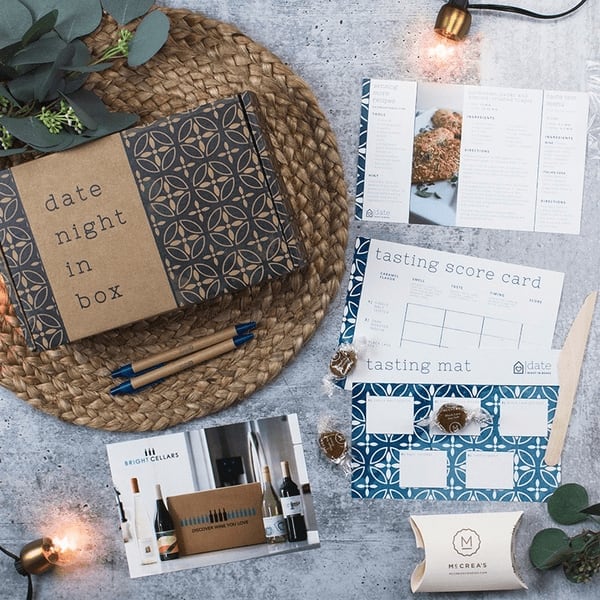 Date Night In
What's Included: Each box is curated around a new, fun theme, and includes several activities to enjoy together, snacks, custom recipes, and even conversation starters! Past boxes have included themes and activities like "Foundation of Love" with fun, creative building projects, "Throwback" with karaoke and trivia games, and "Key to My Heart" with escape room-esque puzzles. It's a great way to add some stress-free fun to your weekends at home!
Cost: Starts at $41.99/month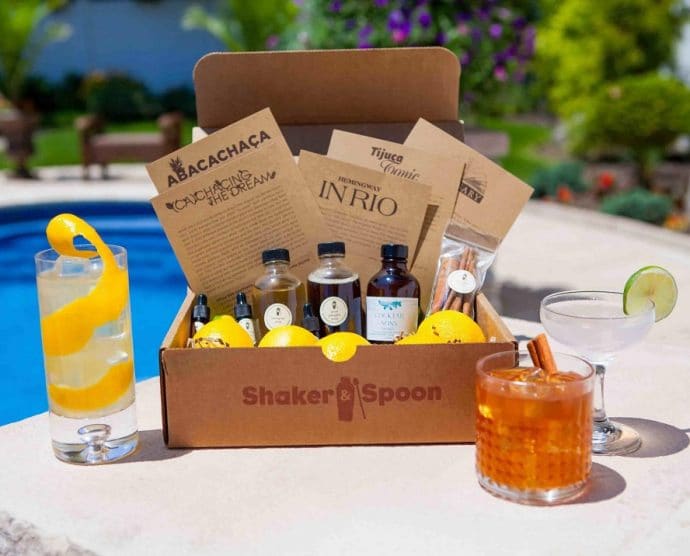 Shaker & Spoon
What's Included: Perfect for any couple who loves checking out the newest bar in town, Shaker & Spoon delivers the craft cocktail experience in their monthly gift box. Each box features 3 unique recipes from top bartenders and includes everything but the liquor to make 12 cocktails, 4 of each recipe. Delivering syrups, bitters and mixers, every box brings new flavors and combos to spice up any evening in!
Cost: Starts at $50.00/month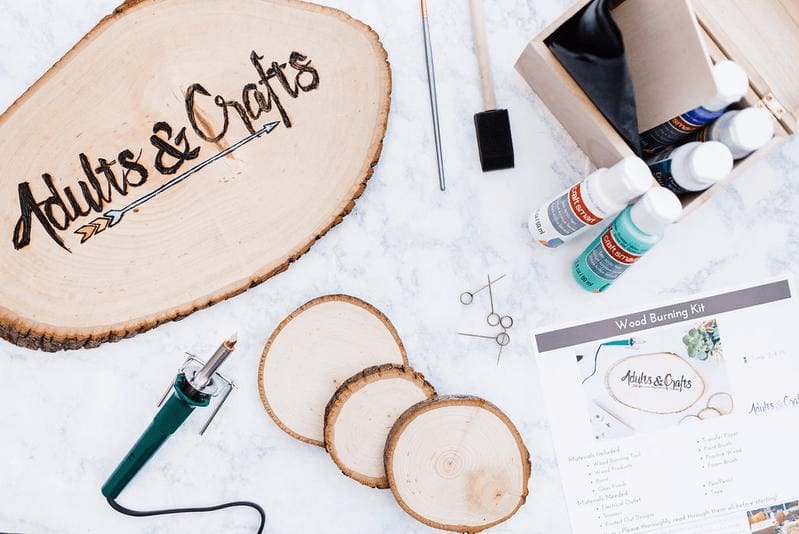 The Arts & Crafts Crate
What's Included: Arriving with all that's needed to make a trendy, Pinterest-worthy craft or DIY project, you'll unbox high-quality materials, accessories, tools and step-by-step instructions to create things like home decor, cheese boards, and artwork. The Adults & Crafts Crate also makes a great gift for any couple building a new home together!
Cost: Starts at $33.00/month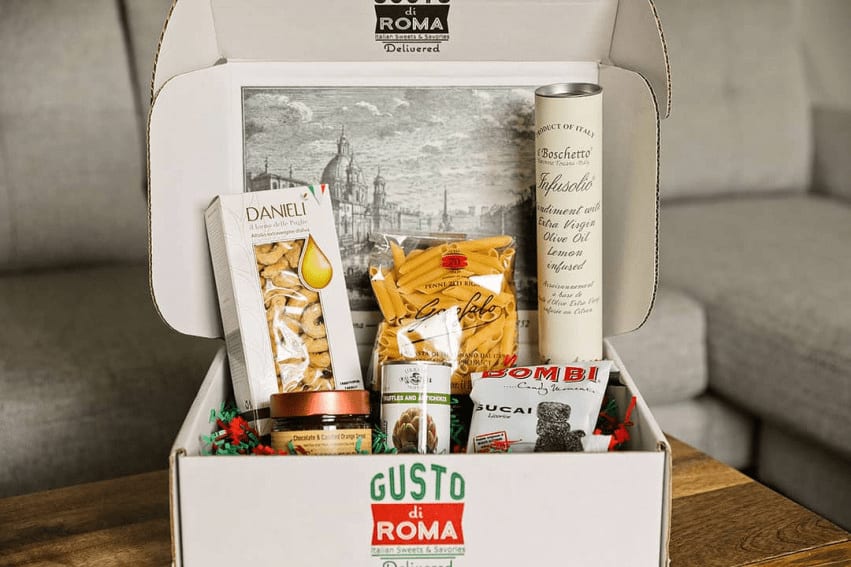 Gusto di Roma
What's Included: Gusto di Roma offers a first-class ticket to a premium culinary journey. Together you'll indulge in the sweet and savory tastes of Italy with a curated mix of 5-6 imported Italian appetizers and sweets, from artisanal charcuterie and olives to honey nougats and almond biscotti. There's a deliciously decadent variety of Italy's best in every box, and a great way to gift delicious snacks to fill any cheese board!
Cost: Starts at $69.99/every 2 months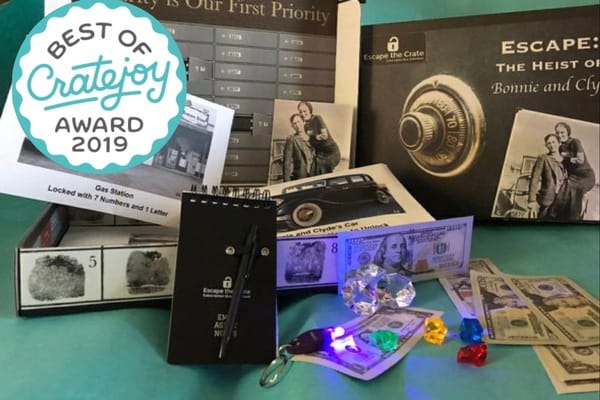 Escape The Crate
What's Included: Embrace game night in and send an escape room adventure to your living room with Escape the Crate, a unique alternative to a classic board game. Get in the competitive spirit and work together to decode ciphers and solve riddles and puzzles.
Cost: Starts at $29.99/every 2 months
Match Made Coffee
What's Included: Special moments can happen anytime, anywhere, even over a morning cup of coffee! The Match Made Coffee subscription box can deliver just that, featuring 2 craft coffees and 2 gourmet cookies in each box, mindfully selected as a great flavor match to that month's brew.
Cost: Starts at $19.95/month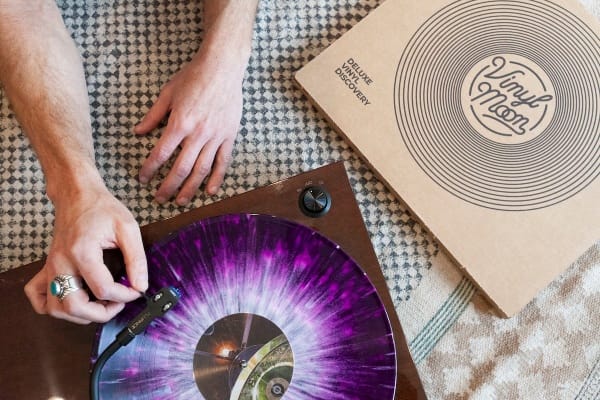 Vinyl Moon

What's Included: If you and your significant other share the same taste in muisic, then VINYL MOON might just be your go-to box! Curated by a team of music lovers and pressed on high-quality color vinyl, each album features 10 new scene-worthy artists and arrives with custom-designed jackets and inserts.
Cost: Starts at $30.00/month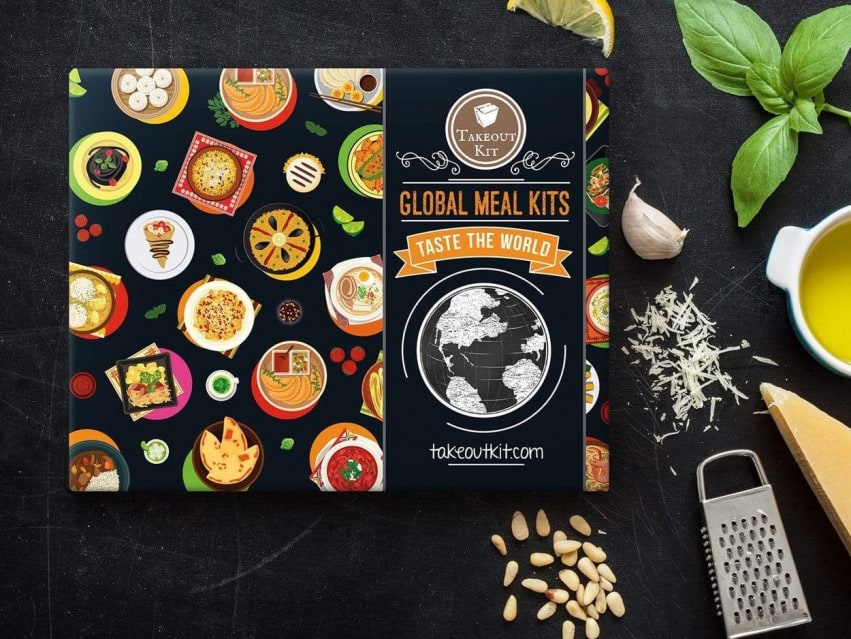 Takeout Kit
What's Included: This food subscription box allows you and your date to travel the world, Anthony Bourdain style, without breaking your budget. This kit includes everything you need to make authentic cuisine at home: spices, coconut milk, noodles, rice, etc. So put on your aprons and become master chefs with this fun box.
Cost: Starts at $29.95/month