In a short drive from the metropolitan city of Phoenix, you can travel from the desert, to the red rocks of Sedona or the pine forests of Flagstaff. You can even road-trip to the Grand Canyon (one of the seven natural wonders of the world), or ski down the slopes of Snowbowl.

In Arizona, there's adventure to be had! It is no wonder why the state has become a hot attraction for short term rental investors.
As the adage goes, every successful real estate investment begins with the right location. With the growing popularity of short-term rentals across the U.S., many cities are creating tighter rules and prohibiting Airbnb rentals altogether. However, Arizona has gone in another direction by signing a law in 2016 that prevents cities in the state from banning short term rentals, making cities in Arizona the perfect place for investors.
Check out these seven amazing Arizona Airbnb escapes below before booking a hotel on your next trip or staycation in State 48!
Phoenix ranks #1
Did you know Phoenix is ranked as the #1 most profitable place in the U.S. to own an Airbnb? Check out the stats to the right!
Eager to start investing in your own?
| | |
| --- | --- |
| Median List Price | $422,000 |
| Average Occupancy Rate | 74% |
| Average Daily Rate | $169 |
| Active Rentals | 4,218 |
You know you have arrived at The Brexley when you see its well known steel pipe "cage" entry. This was handmade with 7500 steel pipe pieces. This property has over 2,600 square feet of living space with organic and modern decor/furnishings that keep your comfort and enjoyment in mind. Guests enjoy gathering around the 14' white concrete kitchen island. Each bedroom includes 2 cozy branded robes to enjoy during your stay, plus extra towels and a blow dryer. This home is great for guests who are wanting to relax, renew and refresh. The best part is, "The Brexley" has its own shop where you can buy items that you loved from your stay!
"The Brexely was an absolutely stunning place. We thoroughly enjoyed our stay and our host Cindy was fantastic to work with. The attention to detail everywhere was fantastic and made our stay one to remember. We will definitely be returning! " -Barbara, 2021
This unique home was originally built as carriage house in the early 1900s! This vacation rental would serve as the perfect summer escape from the hot temperatures of the Sonoran Desert or a dreamy winter wonderland during the holiday season. The sunroom is a guest favorite space for cozy gatherings in front of the fireplace while surrounded by natural greenery. Filled with charm, this Airbnb truly feels like something out of a storybook!
"This house is AMAZING. Fully stocked and cozy it had a nice blend of vintage and modern. The "cool room" is the best part. There are REAL trees inside! Games, books, sleds…everything you could possibly want. This house would be perfect any time of year. Highly recommend! " -Tiera, 2021
This quaint old mining town offers all the Arizona small town charm one's heart could ever desire! Apartment 2B is a delightful little abode, perfectly located in a historic building on Main Street which was once an International Music School. It's also close to all the shops and restaurants for you to explore. Vintage furniture fills the spaces of this apartment creating a cozy and inviting midcentury modern design. This space, like the town, is full of spirit!
"This was our second stay at Object Hotel and we absolutely loved this room! Rachel has covered all the hosting and amenity bases (seriously one of my favorite hosts anywhere), and the building and location do the rest: gorgeous lighting and energy, a perfect view of Main St, and a fun, winding little ascent up to your room. I've recommended Object to so many people and as much as I love a new experience, I think I'll always check to see if one of Rachel's rooms is available when we're planning another weekend in Bisbee." - Laneia, 2022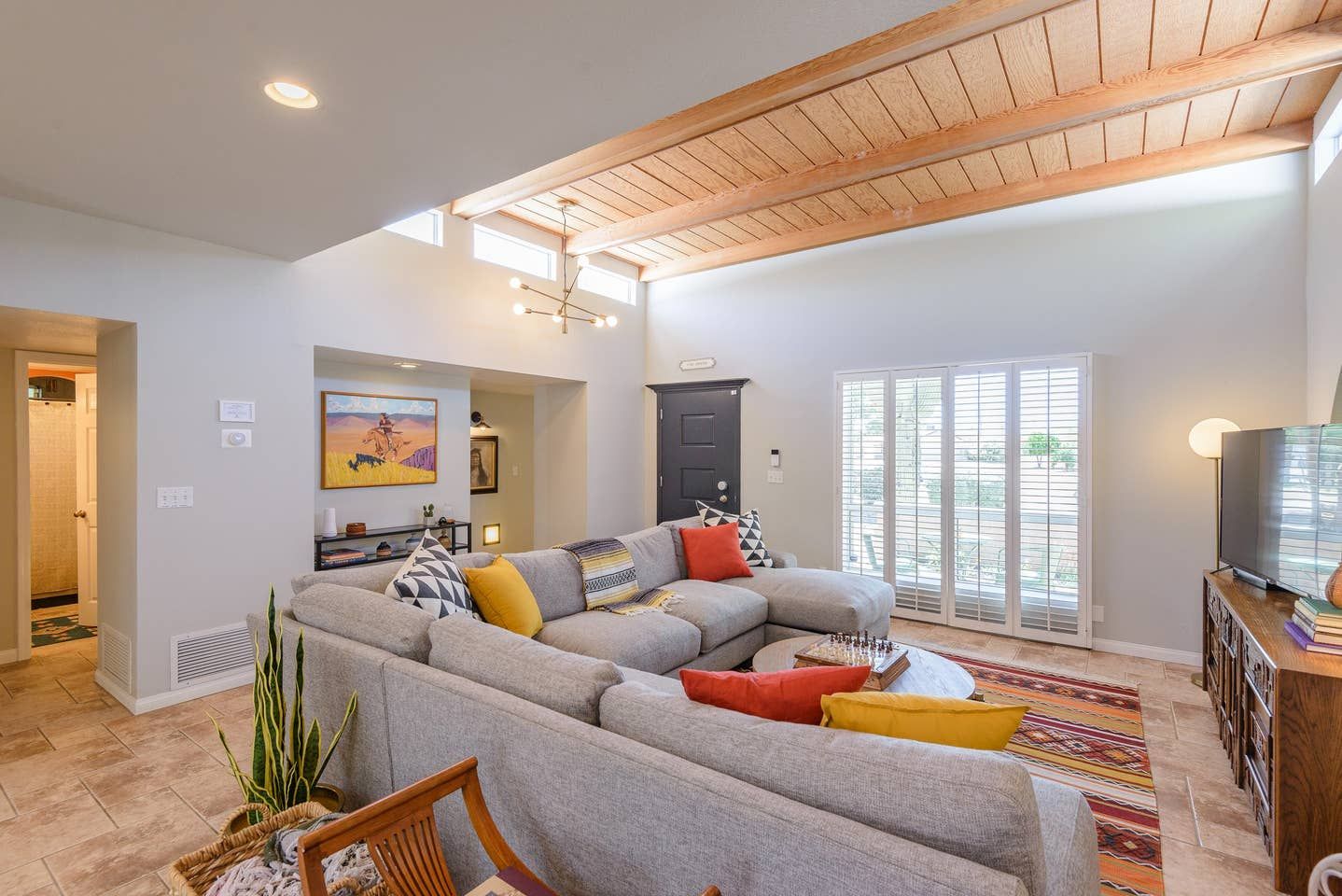 4. The Ollie
SIP. DIP. NAP. REPEAT.
In the mood to relax? Located in North Scottsdale, this inspired Southwestern modern oasis is designed for you to settle into the desert way of life and leave your worries at the door. From the fun decor, thoughtful toiletries, and lush expansive backyard, you may have to think twice about leaving. In each one of the 4 bedrooms you can expect to find a memory foam mattress, Keurig coffee stations complete with biodegradable coffee pods and assorted teas, as well as lucious bathroom toiletries sourced locally from Arizona makers. Outside, enjoy your favorite book under the pergola or beat your friends in a game of corn hole. Whether you're bringing the family, celebrating with friends or just needing some alone time, The Ollie has that warm desert embrace you seek for a relaxing getaway.
"The Ollie is a 10 all around. Everything that you could possibly need in the house is already thought of. The house is in a quiet cul-de-sac lot. Grocery stores, restaurants, and shopping are all just a quick drive away. Very nice private backyard with an amazing pool." -Lili, 2019
With all the hustle and bustle of city living, a nature getaway is soon to become due! This rustic cabin in the woods in Flagstaff serves as the perfect escape for groups looking to disconnect and recharge in nature. Wake up and enjoy a cup of coffee on the patio, have some chats by the fireplace, enjoy a friendly match of pool, or simply lounge in the living room to take in the pine and mountain views. This cabin awaits for you to create unforgettable memories in it!
"The cabin was a dream come true. The location, views, amenities, and space made this the perfect weekend getaway for the entire family. " -Lili, 2019
Want to experience the Scottsdale millionaire's lifestyle? Then this is the vacation rental for you! This stately home is located in Paradise Valley,
"Arizona's wealthiest municipality"
. With modern finishes throughout and a dreamy luxurious backyard, you won't want to leave! But the lavish experience doesn't stop there! Upon request (and additional costs), the host is even able to schedule and accommodate luxury car rentals, butler service, private chefs and more! They truly take concierge hospitality to new heights!
"This place is outstanding! My immediate family stayed and everyone was beyond impressed with the location, stylish decor, and of course....the backyard was EVERYTHING!!! If you're looking for relaxation and the ultimate luxury home away from home, this is it! " -Tiffanee, 2020
Bask in the remarkable 180 degree views of the Sedona Valley that greet you the moment you walk into the great room. Every window of this home serves as a frame for the picturesque Red Rocks that attract travelers from all around the world. The grandness and natural beauty of the Sedona landscape is both humbling and tranquil and has a delightful grounding effect. So if you desire moments of stillness with nature, The Vortex provides a space to have just that!
"The location and deck are unbeatable! Every day of our stay, we enjoyed our morning coffee watching the sun rise and an evening happy hour watching the sun set on the cliffs across the valley. It was the perfect home base for a rejuvenating week! " -Christina, 2020