If the typical hotel stay is too passé, consider staying somewhere extraordinary during your next vacation—like a treehouse.
Treehouses are becoming a popular lodging option for travelers looking to create a memorable experience. In fact, the demand for treehouses increased more than 30% over the past year, according to vacation rental booking site HomeAway. "Groups and families want to combine outdoor adventure with the comforts of staying in a home away from home", Karen Fuller, HomeAway's senior director of global market research, said in a statement.
Their design tends to be more whimsical and playful than your traditional hotel, and many are built from sustainable materials. That, along with the unparalleled sights, makes a stay in a treehouse abode a truly one-of-a-kind experience.
So if you're ready for a vacation filled with panoramic, bird's-eye views straight from your balcony or bedroom, we've compiled a shortlist of the top treehouse stays you can book right now.
1. TreeHouse Point, Seattle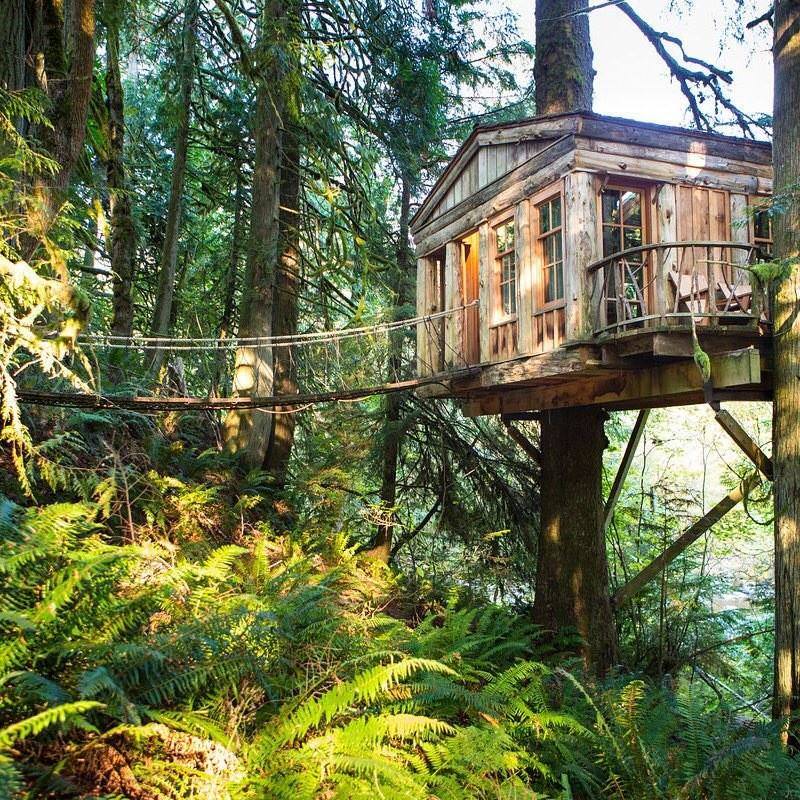 Nestled in the lush forest, 30 minutes east of Seattle, TreeHouse Point is the perfect place to immerse yourself in the natural beauty of the Pacific Northwest. TreeHouse Point is home to six iconic, rentable treehouses; a central Lodge; a multi-purpose event space; and two cedar-lined bathhouses. All indoor spaces are heated and provide bedding, towels, and even shampoo and conditioner!
It doesn't stop there! Complimentary Wi-Fi, books, board games, snacks, and dishware are available inside the Lodge for guests to enjoy. Each morning, TreeHouse Points' talented cooks prepare a delicious, wholesome breakfast in the Lodge.
TreeHouse Point
2. TreeHouse Retreat, Montana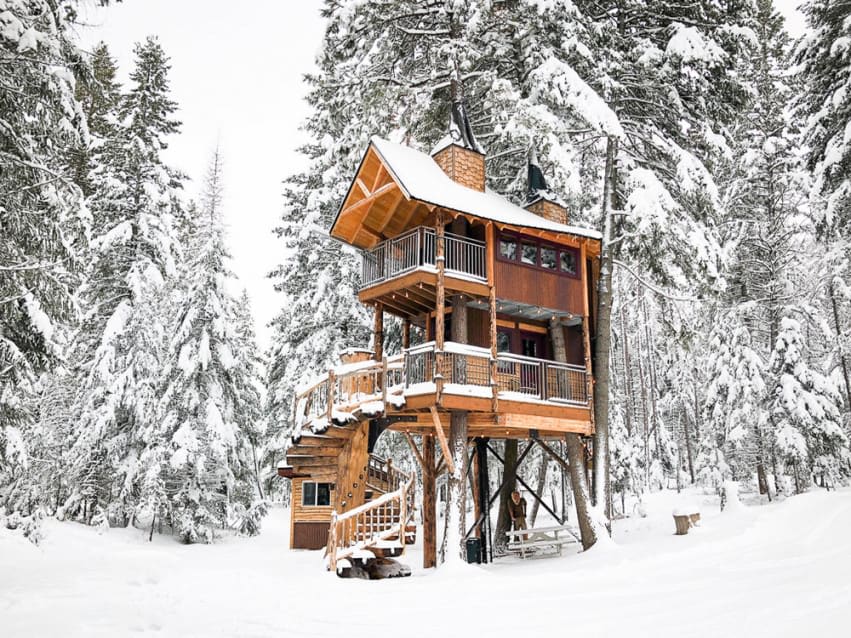 Dreaming of a wintry getaway to a cabin in the woods? Turn your dream into a reality and book a trip to this stunning, two-story treehouse retreat at the gateway to Glacier National Park in Montana. This cozy cabin is ideal for outdoor adventurers and the spacious living areas will provide endless hours of enterainment stocked with dominoes, card games, and Jenga! Enjoy a campfire each night under the stars while making memories that will last a lifetime!
3. Post Ranch Inn, Big Sur, California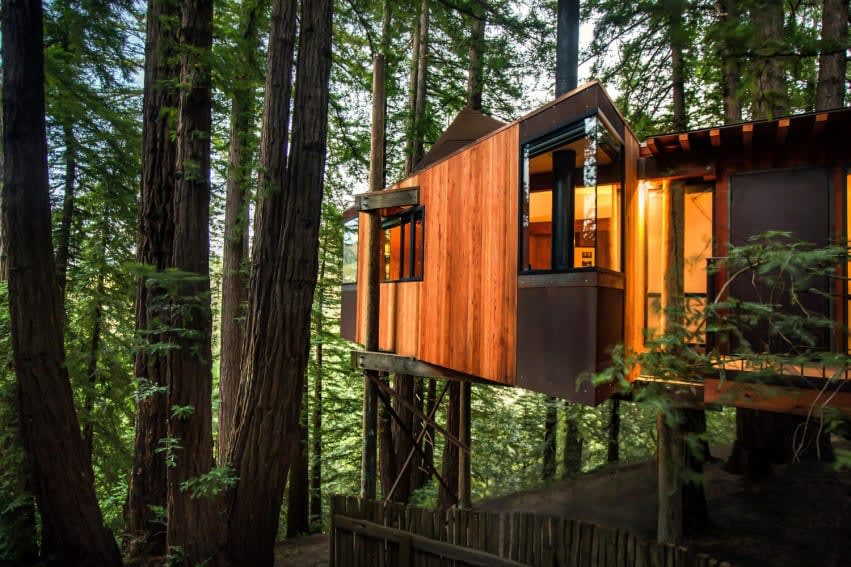 With 5-star amenities and an unspoiled natural setting, there are a lot of reasons to love Big Sur's iconic Post Ranch Inn, but at the top of that list are the treehouse accommodations. Built on stilts 9 feet off the forest floor, these structures feature window seats, wood-burning fireplaces, skylights, and private patios.
All Post Ranch Inn reservations include daily breakfast as well as complimentary activities including yoga classes, nature walks, chef's garden tours, and use of Lexus vehicles and Wi-Fi.
4.The Floating House, Puntarenas, Costa Rica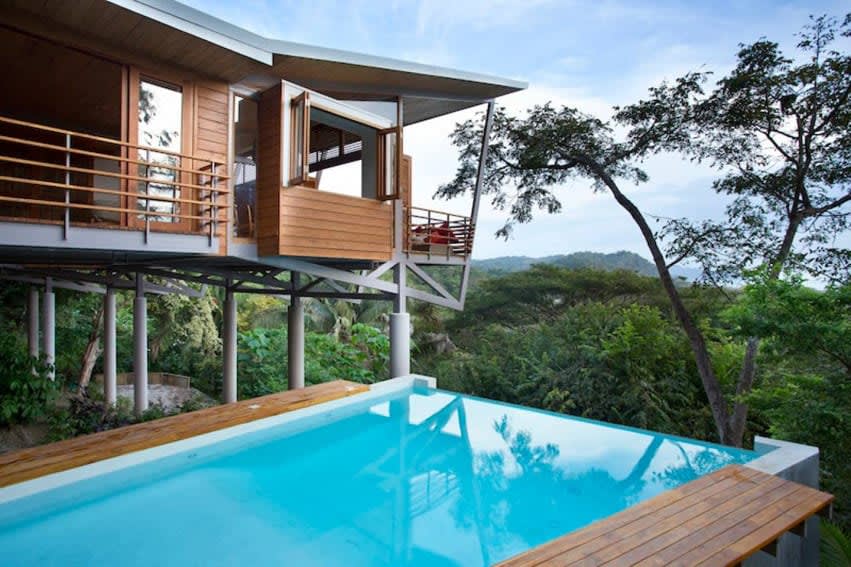 Designed by Costa Rican architect Benjamin Garcia Saxe, who has been recognized by the World Architecture News Awards, Floating House offers a unique living experience combining expansive ocean views towards the Playa Hermosa surf break, tropical luxury interiors, and an infinity swimming pool - all within walking distance to the beach.
This 1.5 acre property exemplifies sustainable tropical luxury design. The Floating House incorporates sustainable living and construction principles like raised construction to reduce impact on forest undergrowth, UV water filtration systems, and natural ventilation for efficient heating and cooling without depending on mechanical fixes.
5. TreeHotel, Harads, Sweden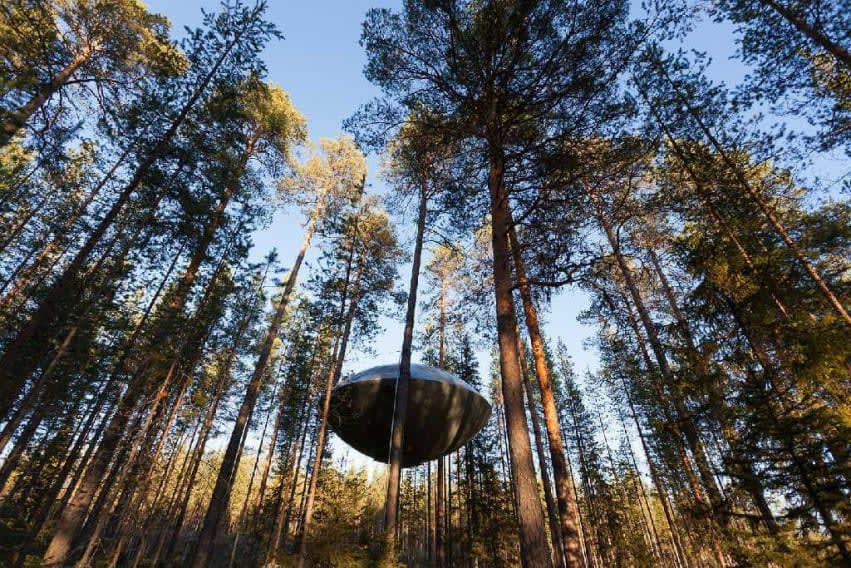 The name of the game at Sweden's TreeHotel is undisturbed nature. All of the units have a very small footprint, but still manage to be the most unique treehouses on the planet. The large UFO suite looks like it is right out of the hit movie ET, offering a true out-of-this-world lodging experience.
The TreeHotel also offers a crate-like cabin stay which elevates over the valley, a huge bird's nest treehouse, as well as a suite that looks like it is made out of Legos!
6. Whispering Woods Treehouse, Ridgedale, Missouri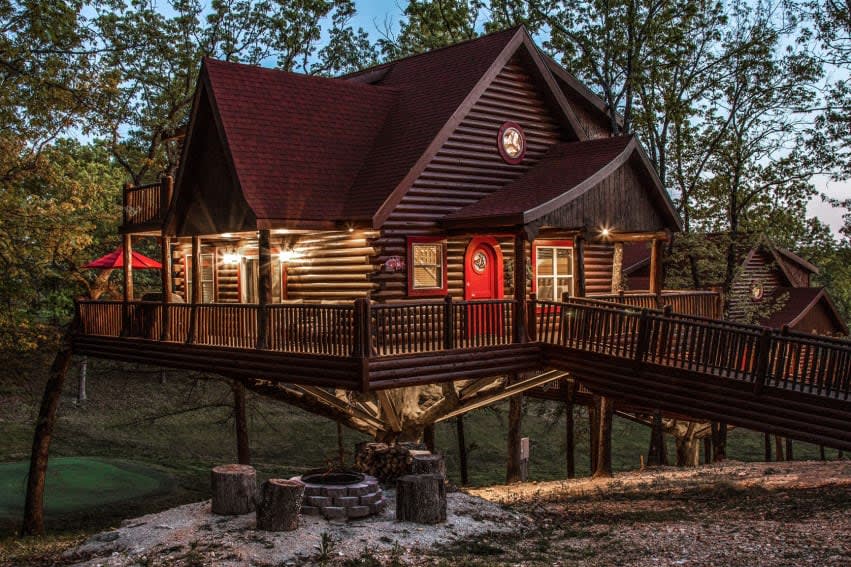 Located on the grounds of Branson Cedars Resort, this 1,372-square-foot treehouse makes for a great place to hang your hat for those looking to explore the pristine Ozark wilderness.
This treehouse will sleep eight comfortably with 2 bedrooms, 2 bathrooms and a sleeper sofa! Have a furry friend? Whispering Woods is pet friendly so feel free to bring them along!
7. Tropical Treehouse, Hawaii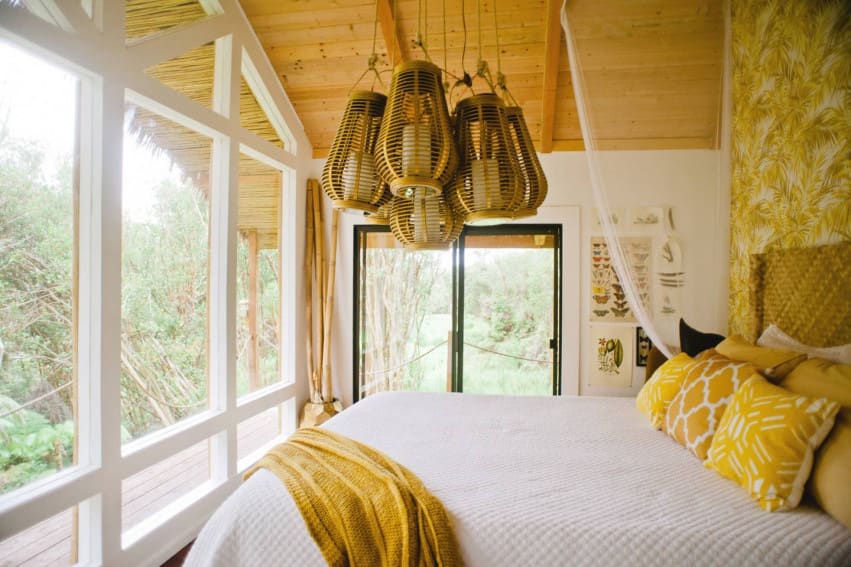 This unique treehouse allows you to experience true off-the-grid living without having to sacrifice the comforts of home. Upon arrival, let the red cinder path be your yellow brick road as you are led through the Hawaiian jungle to your personal paradise. Enjoy 360-degree views of the lush jungle from your wraparound lanai.
At night, enjoy being serenaded by the sweet chirping coqui frogs. Hear rustling branches, grunts and squeals? Don't worry, that typically means the cute family of wild pigs are nearby. Quietly grab the binoculars and catch a glimpse of them!