Who let the dogs out?
Dog parks offer great space for our canine comrades to run free, interact with other dogs, and burn off energy. For the doting pet parent, it's also a chance to meet other dog lovers, take in the fresh fall air, and get a little exercise! A win-win for all.
Take a look at these 11 popular dog parks around the Valley!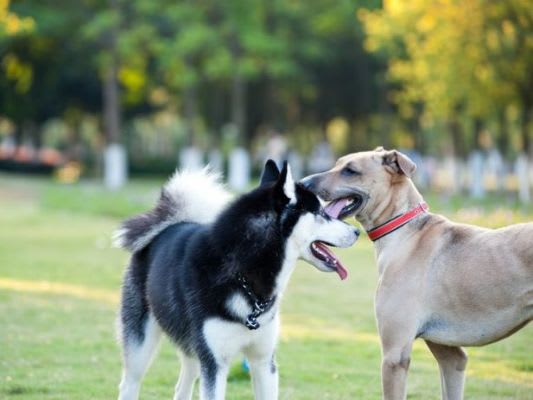 STEELE INDIAN SCHOOL DOG PARK

Paw-shaped pathways at this Central Phoenix location leave little question for what or whom this park was designed. The Steele Indian School Dog Park invites off-leash activity for both large and small dogs with separate play areas for each.
There are also shady trees and a few seats and tables for pet owners to relax.
Location: 300 East Indian School Rd., Phoenix
Hours: 6 a.m. to 10 p.m. daily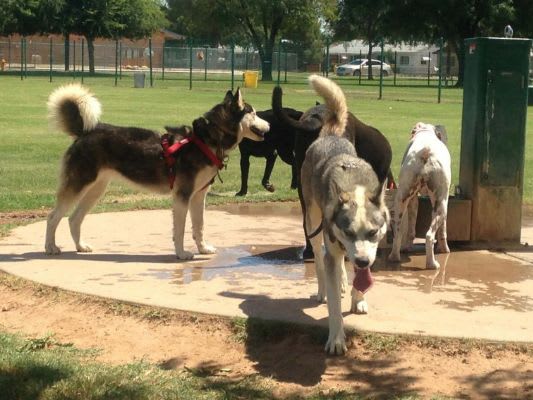 PETSMART DOG PARK AT WASHINGTON PARK

One of the most popular off-leash dog parks in the Metro Phoenix-area, PetSmart Dog Park at Washington Park covers 2.5 acres and offers plenty of room for dogs to roam.
This park includes watering stations, benches, and "Mutt-mitt" dispensers to help curb pet pollution.
Location: 6655 N 23rd Ave., Phoenix
Hours: 6:30 a.m. to 10 p.m. daily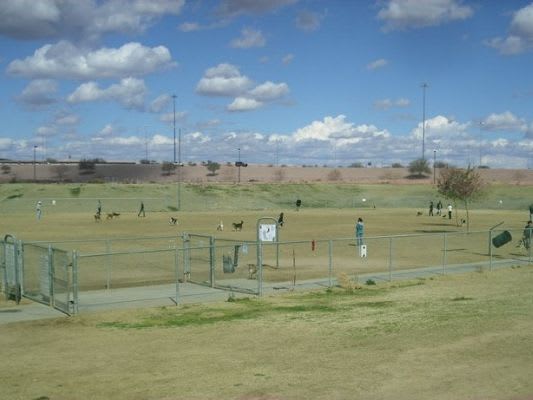 RJ DOG PARK AT PECOS PARK

This fully-fenced dog park offers two grassy area divisions for small and large dogs. Both areas of the park contain shaded areas and water fountains to keep your fur baby cool on warmer days.
Visitors describe the park as spacious and like the fact that parking is plentiful. For full family outings, you will find an extensive play area, a community swimming pool, and a skateboard park nearby.
Location: 17010 S. 48th St., Phoenix (Ahwatukee)
Hours: 6 a.m. to 11 p.m. daily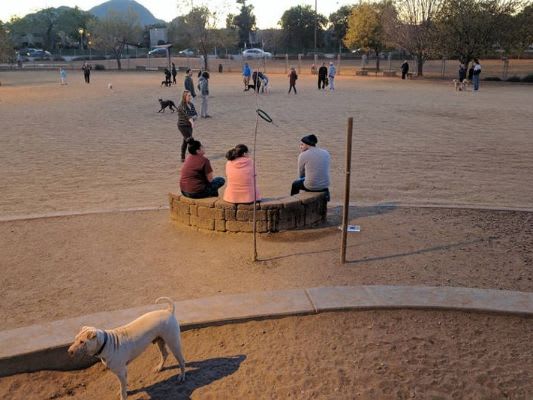 CHAPARRAL PARK IN SCOTTSDALE

Chaparral Park's off-leash area caters to both active and passive pets with separate sections for both. Sand pits and concrete structures allow active canines to climb and explore.
You will also find drinking areas for dogs and people, evening lighting, and plenty of benches for dog parents to sit and keep watch.
Location: 5401 North Hayden Road, Scottsdale
Hours: 6 a.m. to 10 p.m. daily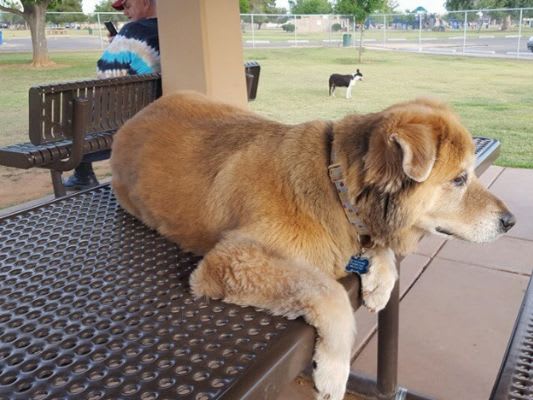 PARADISE VALLEY DOG PARK

Covering 2.4 acres of grass, Paradise Valley Dog Park boasts plenty of space for dogs to play.
This area also includes benches, ramadas, and drinking fountains for dogs and their owners. Double-gated areas allow large and small dogs to run freely in their respective zones.
Location: 17642 N. 40th St., Phoenix
Hours: 5:30 a.m. to 11 p.m. daily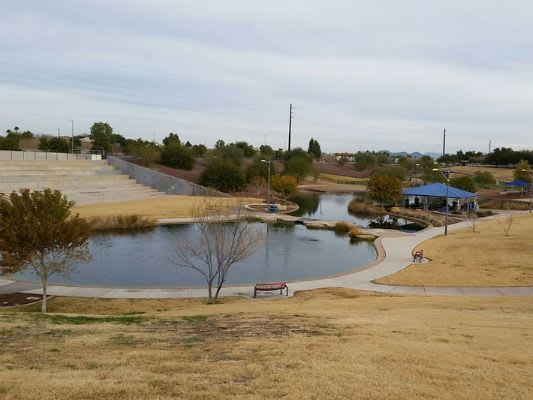 COSMO DOG PARK IN GILBERT

Fenced areas, dog washing stations, and pet drinking fountains make the Cosmo Dog Park in Gilbert inviting for pets and pet owners alike.
The park also offers separate use areas for active and passive dogs, a few obstacle courses to run your pet through, and a swimming area to cool off especially during the hot summer months.
Location: 2502 East Ray Road, Gilbert
Hours: 5:30 a.m. to 10 p.m. daily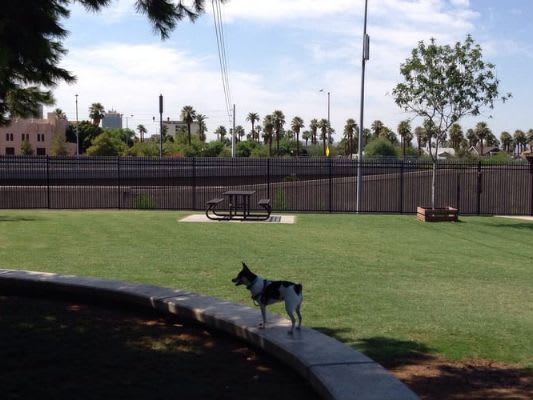 MARGARET T. HANCE PARK

Phoenix's first downtown dog park, Margaret T. Hance Park combines the decorative and the practical for pets and pet owners. The park's wrought-iron gates brings unique aesthetics to its dog-designated area.

Constructed on one acre of land, the park offers plenty of room for play for small and large dogs. In addition, enjoy the water fountains for pet parents and ground level drinking bowls for pooches.
Location: 323 W. Culver St., Phoenix
Hours: 6:30 a.m. to 9 p.m. daily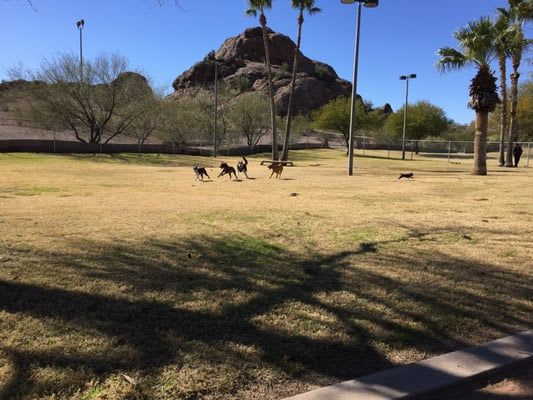 PAPAGO PARK

It's easy to keep dogs entertained at Papago Park. Located near the Phoenix Zoo, Papago is one of the most popular parks for pet owners. It features a lake, picnic areas, playgrounds, and hiking trails.
Your dog can be by your side whether you are relaxing at the park or making a trek up the mountain. There is also an off-eash area where dogs are permitted to roam freely.
Location: 25 N Galvin Pkwy, Phoenix, AZ 8500
Hours: 6:00 a.m. to 7 p.m. daily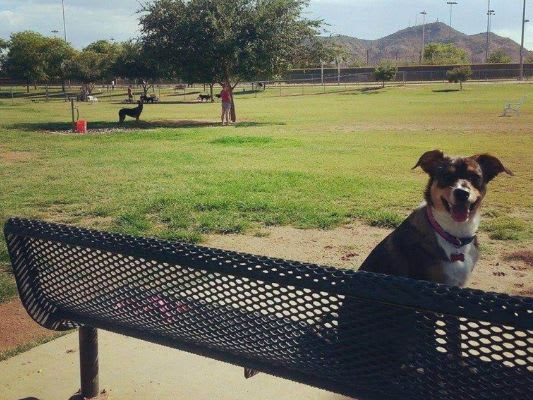 ROSE MIFFORD SPORTS COMPLEX DOG PARK
Marked by sports fields and an exercise circuit, the Rose Mofford Sports Complex near Metrocenter also features a designated play area for dogs and their owners.
Two double-gated areas, one for small dogs, another for larger dogs, offer plenty of room to run free. This family-friendly facility is also handicap-accessible.
Location: 9833 North 25th Ave., Phoenix
Hours: 6 a.m. to 10 p.m. daily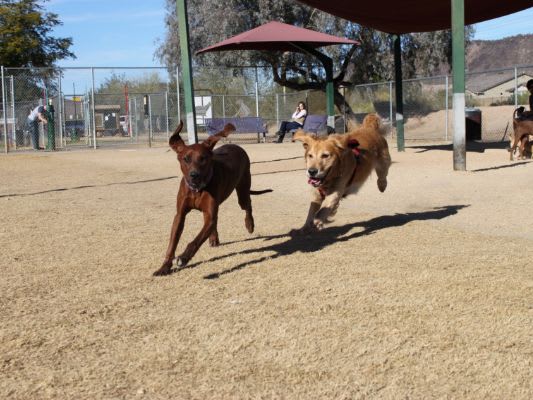 SAHUARO RANCH DOG PARK IN GLENDALE

Small dogs and their owners are frequent visitors to this park in Glendale that offers a few pieces of agility equipment for off-leash training and exercise.
Outside of its dog designated area, Sahuaro Ranch Park also invites visitors to roam the grounds, which is home to historic ranch buildings, soccer fields, a softball complex, and a picnic area.
Location: 63rd Avenue and Mountain View Road, Glendale
Hours: 6 a.m. to 10 p.m. daily except Tuesdays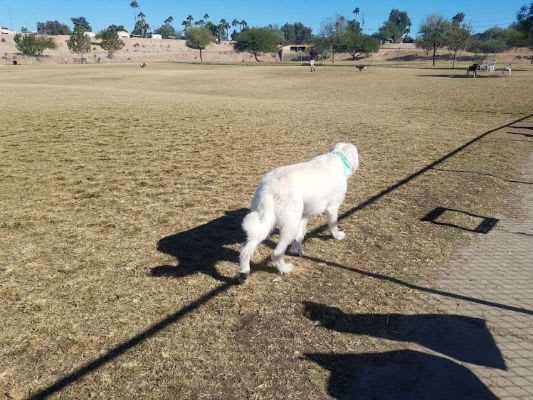 GROVER BASIN DOG PARK

Packed with amenities, this fully-fenced off-leash park covers 2.3 acres of grass. There are two separate areas for small and large dogs.
Shade trees, benches, and cool running water make this a popular place for dogs and their owners.
Location: 17445 N 20th St, Phoenix
Hours: 5:30 a.m. to 10 p.m.